MU Journalism Dean Names Reeves New KOMU-TV News Director
By Nathan Hurst
MU News Bureau
Columbia, Mo. (Feb. 28, 2014) — Dean Mills, dean of the University of Missouri School of Journalism, announced today that Randy Reeves has been named news director at KOMU-TV, effective Sept. 1, 2014. Reeves, an associate professor in the MU School of Journalism, will replace Stacey Woelfel, who was appointed director of the new Jonathan Murray Documentary Journalism Center at the MU School of Journalism effective in the fall.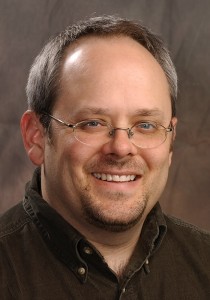 "Randy's years of experience working in KOMU's unique environment, along with his excellent sense of news and interpersonal communication skills make him the natural choice for the position," Mills said. "I am confident he will continue Stacey's good work, not only in teaching the hundreds of students that pass through the doors of KOMU, but in providing top-notch news coverage for mid-Missourians as well."
"We are extremely fortunate to have a person with Randy's journalistic experience take on this important role in our award-winning newsroom," said Marty Siddall, general manager of KOMU-TV. "He has been a key manager in the KOMU 8 newsroom and has exhibited talents for leading and mentoring. As a longtime member of our community, Randy understands the values of mid-Missourians and the news that matters most in our everyday lives. We're confident that under Randy's leadership, KOMU 8 will continue to be a news leader in the Mid-Missouri television market."
Reeves, who currently serves as executive producer of KOMU-TV, says he has big shoes to fill.
"This is a genuine honor," Reeves said. "I'm following a legend. Stacey Woelfel has done more for broadcast journalism than anyone I know. The job is important to our profession, to our students and to the people of mid-Missouri."
As news director, Reeves will be responsible for maintaining the balance between running a teaching laboratory and managing a news department that serves 15 counties in mid-Missouri. The KOMU-TV teaching laboratory instructs about 130 students in more than 300 weekly laboratory shifts each semester while they cover news, weather and sports for mid-Missouri. Reeves also will manage five full-time faculty members from the MU School of Journalism and nearly 20 full and part-time staff members that work in the KOMU-TV newsroom.
Reeves earned his master of arts degree at the MU School of Journalism before spending seven years producing television newscasts for KSBW-TV in Salinas, Calif., and WOOD-TV in Grand Rapids, Mich. He also spent nine years in radio as the news and sports director at WYMC in Mayfield, Ky. Reeves joined the MU School of Journalism faculty in 2003, teaching broadcast reporting classes and serving as managing editor at KOMU-TV before being promoted to executive producer in 2010.
KOMU 8 is an auxiliary enterprise of the University of Missouri and generates all revenues for station operations. Its operations and investments in broadcast technology are funded entirely by advertising and retransmission revenues. The station receives no funding from the university or state.
Updated: July 22, 2020
Related Stories
Expand All
Collapse All
---