KBIA-FM, KOMU-TV Win 13 Regional Edward R. Murrow Awards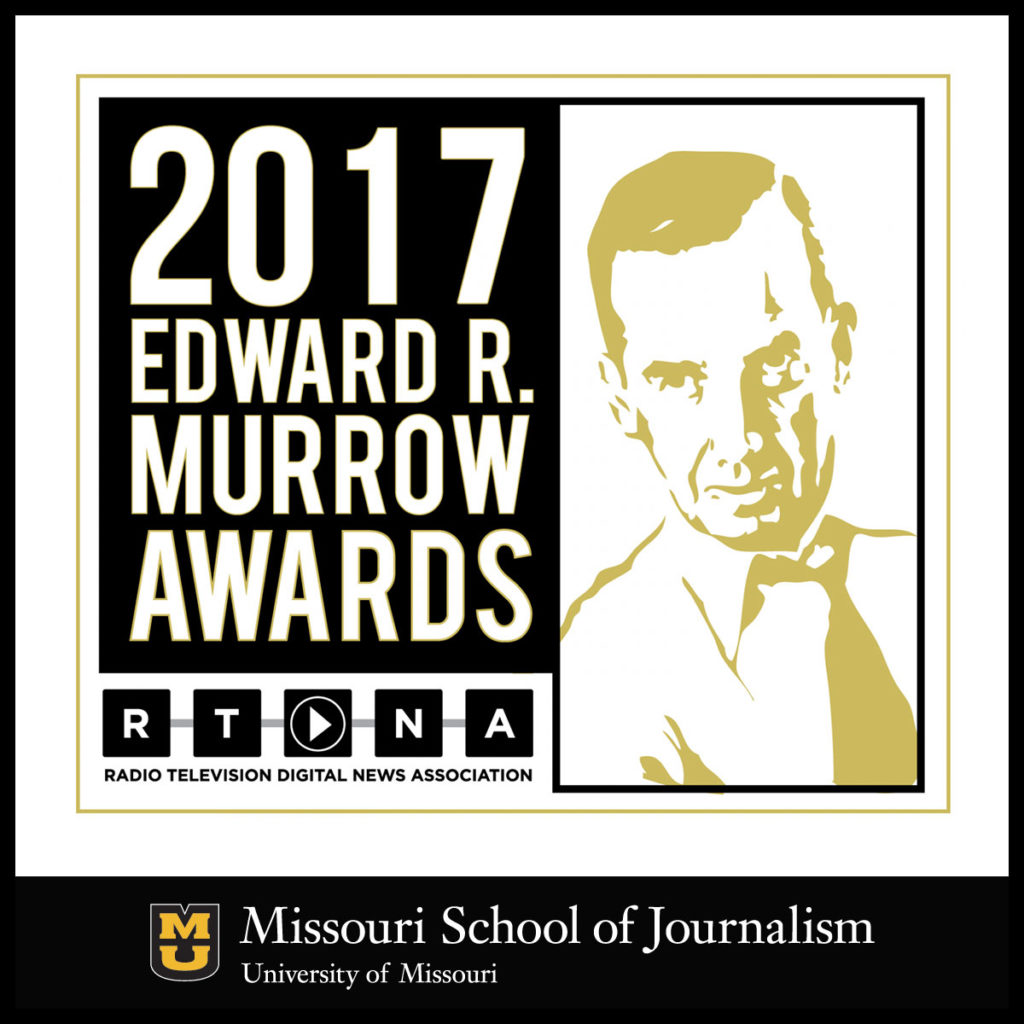 KBIA-FM and KOMU-TV have won 13 regional Edward R. Murrow Awards for the best electronic journalism produced in Region 5, which includes Iowa, Kansas, Missouri and Nebraska.
The International Competition Recognizes the Best Electronic Journalism Produced by Radio, TV and Online News Organizations
Columbia, Mo. (May 16, 2017) — Two student-staffed newsrooms at the Missouri School of Journalism have been recognized for the best electronic journalism produced by radio, television and online news organizations around the world.
The Radio and Television Digital News Association awarded KBIA-FM and KOMU-TV 13 prestigious regional Edward R. Murrow Awards. KBIA, mid-Missouri's NPR member station, serves a 70-mile listening area. KOMU, mid-Missouri's NBC affiliate, is the only university-owned commercial TV station in the U.S. that uses its newsroom as a working lab for students.
This year, RTDNA awarded 751 regional Edward R. Murrow Awards in 16 categories, including Overall Excellence, Breaking News, Investigative Reporting, and Excellence in Innovation. RTDNA received nearly 4,300 entries during the 2017 awards season.
KBIA and KOMU competed against small-market radio and television stations in region 5: Iowa, Kansas, Missouri and Nebraska. All of the regional winners go on to compete in the national competition, with those winners announced in June.
KBIA
KBIA won 10 regional Edward R. Murrow Awards, the most for any small market radio station in the country in 2017. It is the highest total KBIA has received in a single year, the five awards in each of the last two years were KBIA's previous record for one year.
The awards were:
"Winning 10 regional awards was genuinely shocking, there are only 15 categories in the competition," said KBIA News Director Ryan Famuliner. "When we got a call to let us know about the wins, even the RTDNA rep on the phone said he had to go back and re-count to make sure it was right, it seemed like too many. We've received a lot of positive feedback from across the country since the awards have been announced."
Students from across the journalism school were involved in the award-winning work.
"Three of the awards were won by journalism school students for stories they reported – the awards for sports reporting, investigative reporting and excellence in sound. For our students to compete – and win – against professional reporters in a four-state region really speaks to their impressive skills," Famuliner said.
Students were also involved in the production of "Mizzou at a Crossroads," the winner in the News Documentary category. "Mizzou at a Crossroads" is an in-depth analysis on the history of race relations at the University of Missouri, the efforts to start conversations about race on campus, the process behind hiring former University of Missouri System President Tim Wolfe, and an overview of what might be in store for the future of UM leadership. Every professional member of the KBIA news staff contributed reporting to the project. Famuliner said it was a true hands-on teaching project, as students worked alongside professional reporters on the in-depth report. Graduate student Guimel Sibingo co-reported part three of the series, and Emerald O'Brien, Ryan Levi and Rodney Davis also contributed. A handful of convergence journalism students also assisted with production tasks on the project. That story also won a national Headliner Award this year.
Student work was also included in KBIA's entry in the "overall excellence" category.
KBIA has won a national Edward R. Murrow award in each of the last three years, winning for Best Website in 2016, Feature Reporting in 2015, and Best Website in 2014.
KOMU
KOMU was awarded regional Edward R. Murrow Awards in three categories: Excellence in Website for general excellence for KOMU.com; Excellence in Social Media for team coverage of the GOP gubernatorial debate in March 2016; and Excellence in Innovation for KOMU's unique Target 8 Town Square programming, which combines viewer surveys, social media and investigative reporting into a single-issue newscast.
"These three awards all recognize our aggressive work in cutting-edge journalism, using digital and investigative skills to make a difference in the community," KOMU News Director Randy Reeves said.
The Excellence in Innovation award "is especially sweet," Reeves said, because it is awarded to legacy radio or television news organizations that innovate their product to enhance the quality of journalism and the audience's understanding of news.
Assistant Professor Jamie Greber oversees the Target 8 investigation team at KOMU and outlined how the reports are developed and shared.
"By combining investigative reporting with social media and quick-turn deadlines, KOMU 8's Target 8 investigative team is working to innovate both the delivery of deep dive news reporting and the interaction with viewers before, during and after our news reports air. Our goal through Target 8 Town Square is to take topical, usually breaking or developing, news stories and report as deeply and quickly as possibly by utilizing both new social media and traditional investigative reporting techniques like records requests and data analysis. We do all of our reporting in a 48-hour timeframe, starting the clock when we first report a breaking, spot or daily news story.
"For our first report, we uncovered issues with daycare regulations in Missouri with a specific spot news story and expanded the coverage to look at the issue as a whole. This report began when our station reported a daily story about children found playing with a bag of methamphetamine at their daycare playground. The name of one of the women arrested in the case rang a bell; she had previously been convicted of child endangerment for shaking a child. The Target 8 team quickly jumped into action to dig into that case, finding out why this woman was not in prison, and spread the reporting further, asking how a person convicted of child endangerment could possibly still run a daycare.
"Our chief investigator worked with two reporters and an anchor to report the story over 48-hours. We utilized Facebook Live the first week it became available to engage viewers and collect their questions. We also found sources to interview who had stories about poorly managed daycares in the area. Finally, we used more traditional reporting measures like public records requests and confronting officials.
"Two days after the initial story, we presented online and on-air versions of the story, offering answers to specific viewer questions posted on social media. We also followed up the next day by offering a Facebook Live chat, linking our viewers with a state daycare expert who answered questions live.
"Other reports in this project have included looking into police chases that result in injuries and deaths, fact-checking a gubernatorial debate, and college campus shootings. Our viewer engagement has been very high with each of these stories, as evidenced in web analytics and social media engagement indicators.
"We are continuing this project and hope other stations may be able to use our ideas to dig deep into topical stories using the newest technology to engage with viewers. In an era where news consumers demand high quality reporting very quickly, this model is an innovative way to give our audience the best product possible."
KOMU 8 is an auxiliary enterprise of the University of Missouri and is expected to generate all revenues for station operations. Its operations and investments in broadcast technology are funded entirely by advertising and retransmission revenues. The station receives no funding from the university or state.
Updated: October 22, 2020
Related Stories
Expand All
Collapse All
---