KOMU-TV, KBIA-FM Earn 10 Awards from Missouri Broadcasters Association
The Contest Recognizes the Work of the State's Best Radio and TV Stations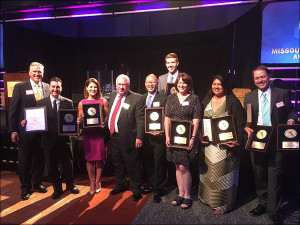 Branson, Mo. (June 15, 2016) — KBIA-FM and KOMU-TV were honored with 10 awards from the Missouri Broadcasters Association on Saturday at the association's annual awards ceremony in Branson.
Each year, MBA recognizes broadcast professionals who exemplify excellence and achievement in the industry. A total of 178 awards were presented to Missouri's best radio and TV stations during the ceremony.
KBIA, mid-Missouri's NPR-member station, reaches 15 counties. KBIA's four first-place wins were the most for any radio news station in the state. KOMU is the area's NBC affiliate, and is the only university-owned commercial television station in the U.S. that uses its newsroom as a working lab for students.
The awards won are as follows:
KOMU-TV
Winner, Best Weathercast
First Place, Best Local Website, for www.KOMU.com
First Place, Best Weathercast, with weathercaster Kenton Gewecke
First Place, Best Documentary/Public Affairs, for "Inside Infertility," a KOMU 8 News special produced by news anchor Brittany Pieper
Second Place, Certificate of Merit, for Complete Newscast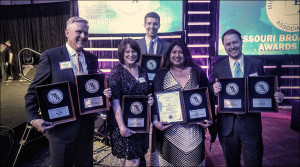 KBIA-FM
First Place, Feature Reporting, for "KBIA Reporter Reflects on Being Inside Confrontation Between Reporters and MU Demonstrators," by Bram Sable-Smith
First Place, News Series, for Overlooked and Underserved in Southwest Missouri, by Rebecca Smith
First Place, Sports, for Mizzou Football Sets Precedent for Student-Athlete Activism, by Kristofor Husted
First Place, Best Local Website, kbia.org
Second Place, Certificate of Merit, for "Shortage in Rich Land," by Kristofor Husted and Bram Sable-Smith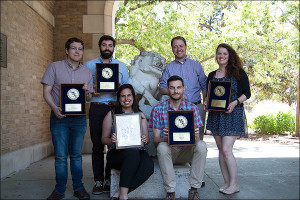 KOMU 8 is an auxiliary enterprise of the University of Missouri and is expected to generate all revenues for station operations. Its operations and investments in broadcast technology are funded entirely by advertising and retransmission revenues. The station receives no funding from the university or state. Each week year around, as many as 150 students under the direction of faculty and staff turn out five-and-a-half hours of local news Monday through Friday, plus another five hours on weekends in pursuit of their journalism degrees.
This spring, KBIA also won two national Sigma Delta Chi Awards from the Society for Professional Journalists and five regional Edward R. Murrow Awards from the Radio Television Digital News Association.
Updated: September 29, 2020
Related Stories
Expand All
Collapse All
---