KBIA-FM Wins 5 Regional Edward R. Murrow Awards
The Radio and Television Digital News Association Awards Recognize the Best in Electronic Journalism
Columbia, Mo. (May 2, 2016) — The Radio and Television Digital News Association has awarded KBIA-FM five prestigious Edward R. Murrow Awards for its work as a small-market radio station in region 5. These awards recognize the best electronic journalism produced by radio, television and online news organizations around the world.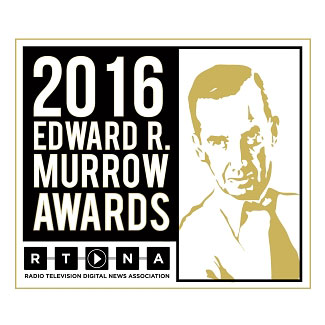 The awards were:
Overall Excellence: For the second year in a row, KBIA won for overall excellence. All professional staff members on KBIA's news team had stories included in the entry. A number of current and former students were also involved in the stories in this entry including, but not limited to, James Gordon, Caty Eisterhold, Ailin Li, Kara Tabor, Hellen Tian, Sarah Kellogg, Emerald O'Brien, Ashley Reese and Heather Adams.
Best Website: This is the fourth straight year that KBIA has earned recognition for its website.
Continuing Coverage: This award is for work on racial issues and unrest in Columbia and at the University of Missouri throughout 2015. Entries were produced by all members of the KBIA professional news team as well as student Ross Terrell.
News Series: This award was given for "Shortage in Rich Land," a series on issues in the Missouri Bootheel produced by Kristofor Husted and Bram Sable Smith.
Hard News: Kristofor Husted's feature on immigrant farm workers' housing won in this category.
There are 13 categories in each regional competition. KBIA's region includes Iowa, Kansas, Nebraska and Missouri. The entries in these five categories will go on to the national competition against the winning entries from other regions. Those winners will be announced in June.
KBIA won a national Edward R. Murrow award in 2015 for Feature Reporting, and another national award in 2014 for Best Website.
Updated: September 24, 2020
Related Stories
Expand All
Collapse All
---