KBIA-FM Wins 2 National Awards for Best Work in Public Radio in the US
The Honors Recognize Stories in the Breaking News and News/Public Affairs Program Categories
St. Louis (June 30, 2016) — KBIA-FM was honored with two first-place awards from the national Public Radio News Directors Inc. competition at an awards banquet in St. Louis on Saturday. The awards honor the best work in public radio across the country. KBIA competed against other stations in the medium-size station category. The station is one of the Missouri School of Journalism's nine professional hands-on outlets that serve as learning laboratories for students.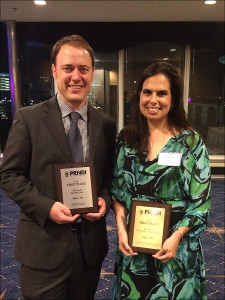 "These two awards are a great demonstration of how KBIA uses the Missouri Method to do outstanding journalism," said Ryan Famuliner, assistant professor and news director. "These two awards were filled with work gathered, produced and reported by students working alongside KBIA's professional staff in a real-world breaking news situation that had far-reaching implications," he said. "You can't get that kind of experience in a classroom."
KBIA took first place in the "Breaking News" category for its team coverage of the protests and resignations on the University of Missouri campus in November 2015. The judges of the contest said, "KBIA's commitment to covering every element of this important, fast-breaking story is evident. From live coverage of Tim Wolfe's resignation, to the celebrations that followed to an analysis of what happens next, KBIA puts on a Breaking News Clinic by reacting to the story with professionalism, insight and context."
KBIA also took first place in the "News/Public Affairs Program" category for its half-hour episode of Intersection that aired the same day as the resignations on campus in November. Host Sara Shahriari and many of KBIA's professional and student reporters provided listeners with voices from across the campus to provide in-depth context about the issues on campus at a time when other media was focused on reporting just basic facts. The judges said, "KBIA hustled to get its listeners a range of insights and perspectives on this breaking new event, probably the biggest story of the year for the Mizzou community. An impressive effort and strong showing."
The awards banquet was hosted by NPR news anchor Korva Coleman, and she mentioned a few of the strongest stations across the country in her introduction. In the process, she mentioned Alexandra Olgin, BJ '13, who just left the public radio station in Phoenix to join a station in South Carolina.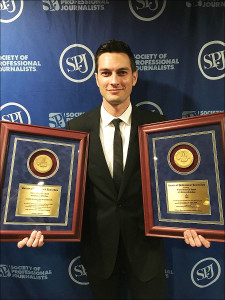 "That was a really cool moment, seeing how the students who work in our newsroom go out and make a name for themselves in this industry," Famuliner said. "Numerous other public radio news directors came up to talk to me about their employees who came through our program, and all of the comments were full of positivity and excitement."
Also at the banquet, John Barth, BJ '79, received the Leo C. Lee Award, PRNDI's lifetime achievement award. He is currently the chief content officer of PRX, which distributes many popular national programs including This American Life and Reveal.
The PRNDI honors are the latest of many awards KBIA won for its coverage of the November events on campus. KBIA also picked up a national Sigma Delta Chi award from the Society of Professional Journalists at a banquet Friday night in Washington, D.C. That award was announced back in April. KBIA also won a regional Edward R. Murrow award for "Continuing Coverage" for its reporting on this topic.
KBIA has been one of the most highly-awarded public radio stations in the country this year. The current list, with other competitions still yet to announce winners, are:
1 national Edward R. Murrow Award
5 regional Edward R. Murrow Awards
2 national Sigma Delta Chi Awards
2 national first place PRNDI awards
4 first place and 1 honorable mention awards from the Missouri Broadcasters Association
3 first place and 3 finalists in the Mark of Excellence Awards
Updated: September 29, 2020
Related Stories
Expand All
Collapse All
---