Missouri Senior Recognized with National Gracie Award for her 'Obvious Question' Podcast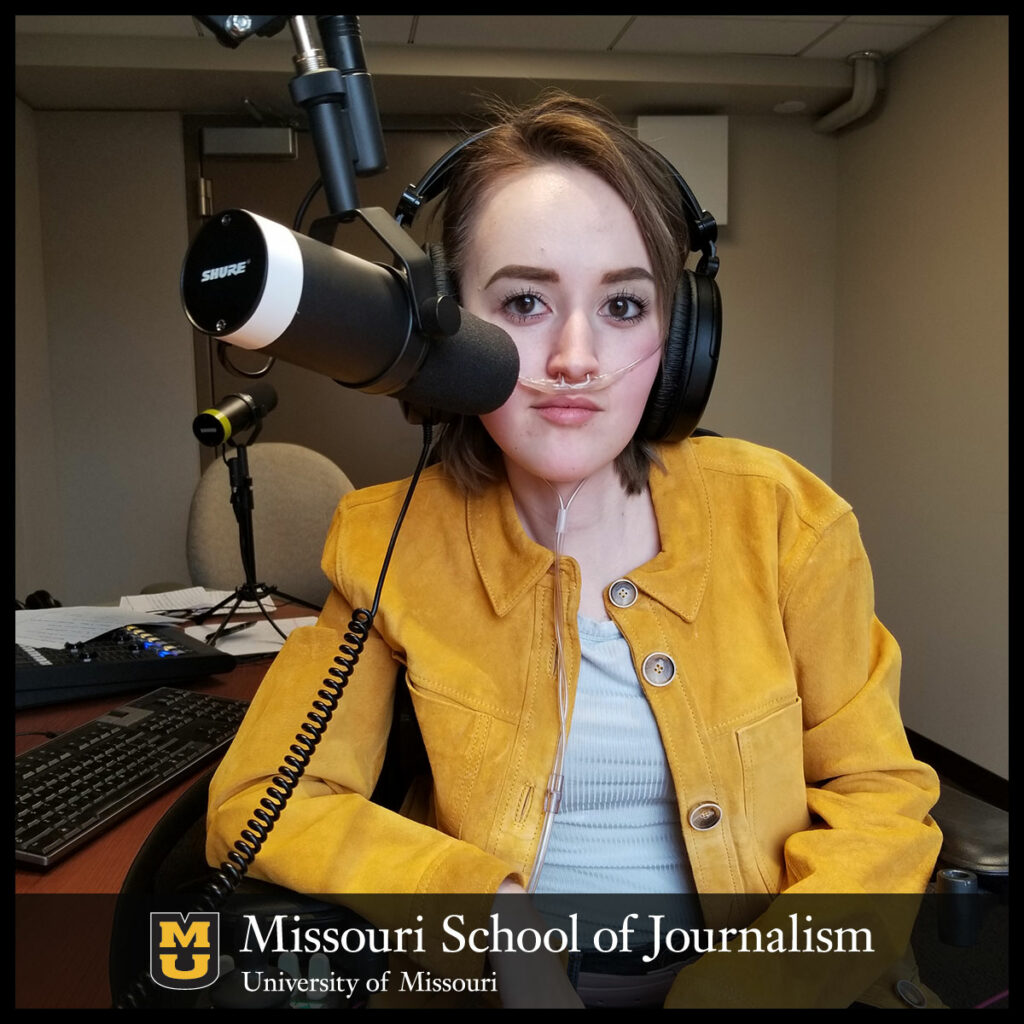 Senior Madison Lawson has won a national Gracie Award for her podcast "The Obvious Question." Lawson will be honored during a luncheon on June 26 in New York City.
By Jennifer Nelson
Columbia, Mo. (May 7, 2019) — Missouri School of Journalism senior Madison Lawson of St. Peters, Missouri, is being honored with a national Gracie Award, which recognizes "exemplary programming created by, for and about women" in digital and broadcast media.
Lawson is receiving the award for "Best Student Host/Personality," for her work on her podcast "The Obvious Question." She will be honored during a luncheon on June 26 in New York City.
The award program recognizes women in local, national and student markets. There are some well-known journalists being recognized this year during the 44th annual awards, which are presented by the Alliance for Women in Media, including Tisha Thompson, MA '01, of ESPN, Hoda Kotb of NBC News and Robin Roberts of ABC News.
"The Gracie Awards recognize exemplary programing created by, for and about women and celebrate individual and collective achievements of women in media," said Becky Brooks, executive director of the Alliance for Media. "With a record-breaking number of entries in 2019, the content that is being honored truly represents the best of the brightest and boldest."
Lawson's podcast, which airs on KBIA-FM, "takes on the assumptions, misconceptions and just plain ignorance others have about people with disabilities." During the first season of the podcast, Lawson, who has two rare forms of muscular dystrophy, shared a personal narrative from her own life while covering subjects such as sex, dating, fashion and friendship.
"Being a host of a podcast like this and being vulnerable and getting people to open up, just comes so incredibly natural to her (Lawson)," said co-host Rebecca Smith, reporter and producer for the KBIA Health and Wealth Desk. "Madi is such an empathetic and talented host."
With the launch of season two planned for later this year, Lawson reflects on how much impact she has seen the podcast have on its listeners so far: "I've had girls from around the world reach out to me saying that they had heard my podcast and they could relate to something in one way or another and saying 'nobody ever talks about this.' I felt the same way. That's been really cool because sometimes during the making of this podcast it's been really hard to be so vulnerable and open about things and so just knowing that one girl heard that, felt seen and understood, that's all I really wanted from this podcast."
About KBIA
KBIA, mid-Missouri's NPR-member station, reaches 15 counties and has served mid-Missouri since 1972. KBIA is a university-licensed, community-supported not-for-profit institution, actively involved in the life of the mid-Missouri area. The station is the area's largest provider of arts programming, serving more than 30,000 listeners and members each week. Journalism students produce stories with audio, video and text for the website while also producing traditional radio newscasts and long-form stories. The station is owned by the University of Missouri and is one of the most successful public radio stations in the nation.
Updated: November 9, 2020
Related Stories
Expand All
Collapse All
---