Journalism Student Madison Lawson, KBIA-FM Both Winners of the 2018 Lee Henson Access Mizzou Award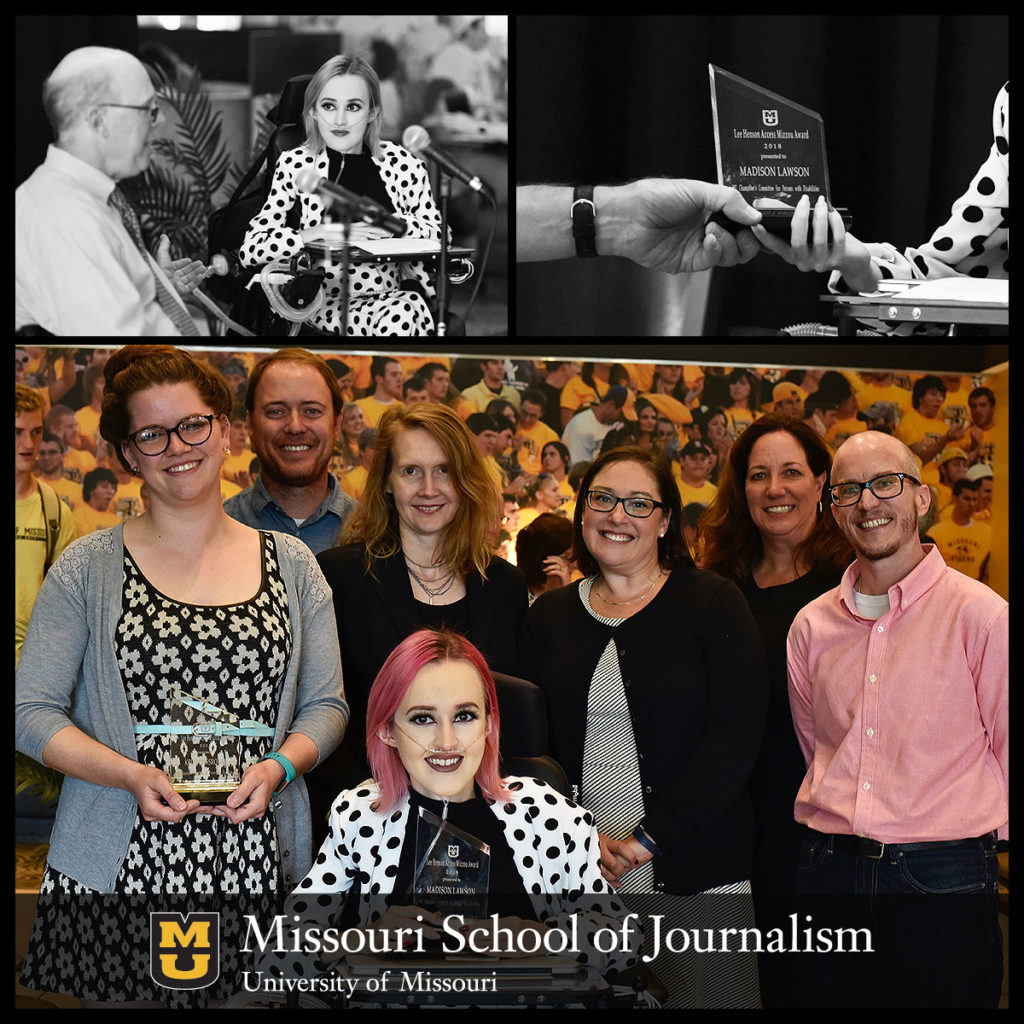 Convergence journalism senior Madison Lawson accepted her 2018 Lee Henson Access Mizzou Award on Oct. 1. KBIA-FM also won an award for its work in accommodating students working in their newsroom.
Columbia, Mo. (Oct. 4, 2018) — Journalism student Madison Lawson and KBIA-FM, Columbia's listener-supported NPR-member station, were selected to receive the 2018 Lee Henson Access Mizzou Award on Oct. 1.
The award was established in 2014 by the MU Chancellor's Committee for Persons with Disabilities to honor Lee Henson – Mizzou's former ADA Coordinator who died in 2014 after 20 years of service to the university – by recognizing those who have made significant contributions to accessibility and the inclusion of people with disabilities at Mizzou and beyond.
Associate Professor Amy Simons nominated Lawson, a senior studying convergence journalism, for the award. "It was my pleasure to nominate Madi for the Henson Award, to recognize and honor the way she uses the skills and talents honed at the School of Journalism to raise awareness and bring perspective to disability issues."
Lawson, who has two rare forms of muscular dystrophy, has had her work published in Teen Vogue. Additionally, Lawson and KBIA Health Reporter Rebecca Smith, are co-hosts of the podcast The Obvious Question. In the podcast, Lawson takes on the assumptions, misconceptions and just plain ignorance others have about people with disabilities.
According to the show's description, "This isn't your typical conversation about disability. In this podcast Lawson talks with co-host Smith and others about fashion, friendship, dating and more – challenging all the things you thought you knew about disability, but haven't had the chance to ask about before."
Simon says that Lawson's work at KBIA and for Teen Vogue is "changing the conversation, causing able-bodied people to think about important issues in very different ways."
KBIA received the Lee Henson Group Award for its work in accommodating students working in their newsroom. In addition to its work with Lawson on her podcast, KBIA also worked with the MU Disability Center to make accommodation for a blind MU Journalism student. The student was able to use mobile devices to gather audio, and was able to read newscasts live on the air in Braille.
"The thing I've learned recently is that making accommodations for students with disabilities is actually really easy," said Ryan Famuliner, KBIA news director. "It's the same process as working with any student in the newsroom: communication and flexibility to meet the student where they are."
According to Famuliner, the Disability Center made it easy when a student does need extra assistance. "The Center pretty much provided anything we needed for the student to succeed."
The Lee Henson Awards are given yearly during the University of Missouri's Celebrate Ability Week.
About KBIA
KBIA, mid-Missouri's NPR-member station, reaches 15 counties and has served mid-Missouri since 1972. KBIA is a university-licensed, community-supported not-for-profit institution, actively involved in the life of the mid-Missouri area. The station is the area's largest provider of arts programming, serving more than 30,000 listeners and members each week.
Updated: November 5, 2020
Related Stories
Expand All
Collapse All
---