Mizzou Students Take Three of Top 10 Spots in Second Annual APSE Contest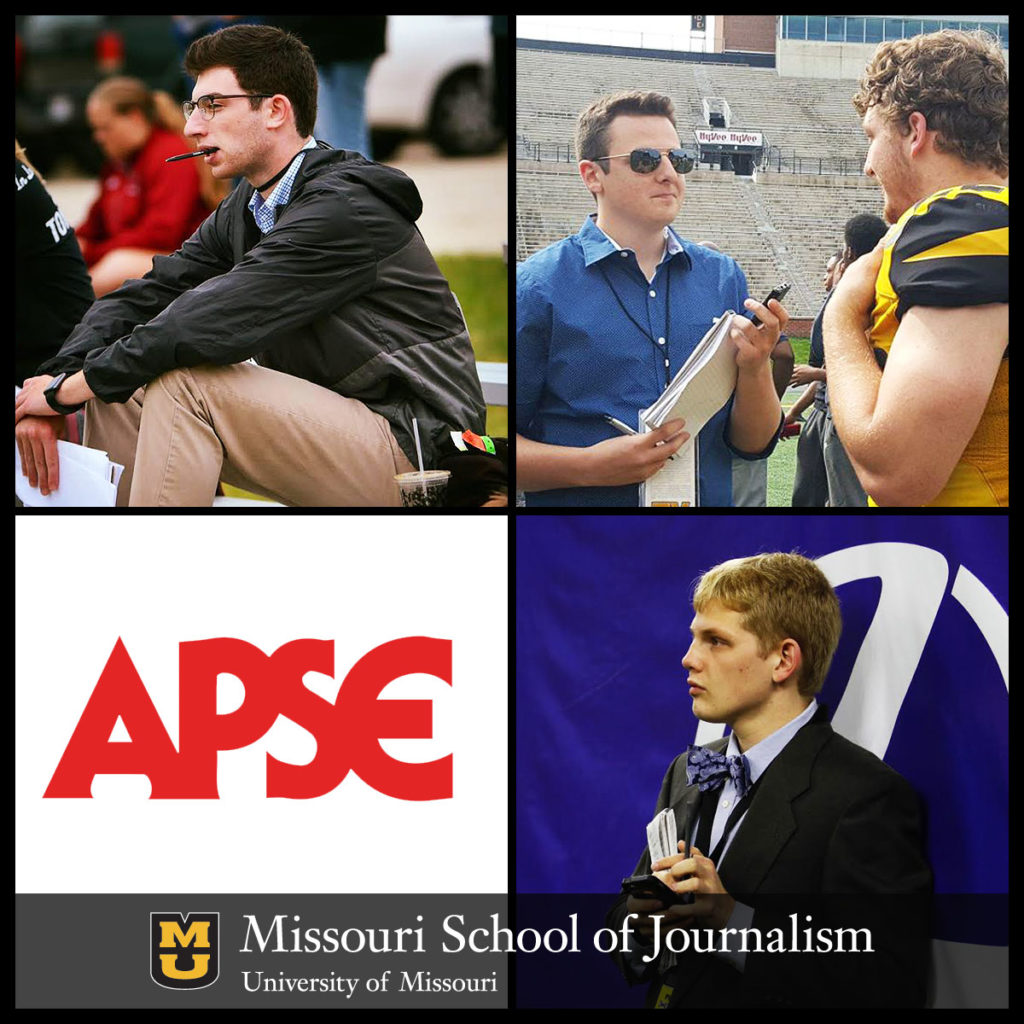 Clockwise from top-left, undergraduate students Alec Lewis, Nick Kelly and Peter Baugh finished fourth, eighth and 10th, respectively, in the second annual Associated Press Sports Editors competition.
Undergraduate Sports Journalists Alec Lewis, Nick Kelly and Peter Baugh Finished Fourth, Eighth and 10th, Respectively
Columbia, Mo. (June 11, 2018) — Three Missouri School of Journalism undergraduate sports reporters have placed in the Top 10 of the Associated Press Sports Editors (APSE) competition for work produced between June 1, 2017, and May 10, 2018. Awards will be presented at the APSE summer conference, which takes place June 17-20 in Nashville.
The bulk of the Missouri student contest entries were originally published in the Columbia Missourian, the J-School's real-world, deadline-driven newspaper media outlet. The Missourian is a digital-first publication founded in 1908 as a community newspaper. Staffed largely by Mizzou students, the paper regularly beats out the St. Louis Post-Dispatch, Kansas City Star and Columbia Tribune for state journalism awards.
Senior Alec Lewis, who tied for fourth place, made a direct connection between his undergraduate experiences and his ability to rise above the pack in a competitive industry. "The Missouri Method experience is the reason I've had as much success as I've had. The opportunity, the competition and the things I've learned throughout are why I've gotten internships and met editors and grown so much as a reporter and writer."
Junior Nick Kelly, who placed in eighth place, is quick to credit the collaborative environment that fuels his Missouri Method training. "To win an award alongside Alec and Peter is an honor. The success Missouri had is indicative of my favorite parts of learning and training at the world's journalism school, namely the talent around me. Working alongside many talented individuals at the Missouri School of Journalism has made me a better journalist and enhanced my learning and training."
Tenth place finisher senior Peter Baugh, who is spending his summer working an internship at his hometown paper, the St. Louis Post-Dispatch, acknowledges the pressure to produce quality work quickly, yet maintains that this is part of what makes the experience memorable. "I'm grateful for the opportunities Missouri gives me to cover sporting events and follow my passions. My classmates push me, but are supportive, and that makes this experience so much more fun."
APSE, founded in 1974, is based at the Indiana University National Sports Journalism Center. The organization strives to improve professional standards for sports departments of professional news organizations and to recognize excellence among its membership.
Updated: November 4, 2020
Related Stories
Expand All
Collapse All
---