Missourian Reporters Win 7 Top Associated Press Sports Editors Awards
The National Contest Recognizes Excellence in Professional Sports Writing
By Ashley Szatala
Columbia, Mo. (March 9, 2016) — The Columbia Missourian and three Missouri School of Journalism sports reporters have won seven awards in the Associated Press Sports Editors 2015 contest. The results were recently announced at the APSE judging convention at the Poynter Institute in St. Petersburg, Florida.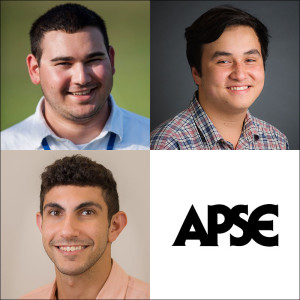 The national contest recognizes excellence in professional sports writing. The Missourian competed in Category D, which includes publications with circulations of less than 30,000. The top 5 in each writing category will be announced later. The Missourian has won more than four-dozen APSE awards in the past 10 years.
"This contest is a big deal because it allows Missouri students to compete against folks in the industry that they hope to join," said Missourian Sports Editor Greg Bowers. "They should be proud of their work. I know I'm proud of them."
Three sports reporters at the Missourian qualified in the contest's category of newspaper circulation under 30,000.
Aaron Reiss, a junior, won three awards for beat writing, projects and game story. His beat writing covered the Missouri football team's 2015 season, and he was recognized for a series of articles he wrote after following then-Rock Bridge High School's Sophie Cunningham to the McDonald's All-American basketball game in Chicago.
Senior Jacob Bogage also received awards in the game story and breaking news category, an award he shared the award with Mark Selig, MA '15. Together they reported on the football team's announcement that it would protest alongside Concerned Student 1950 by refusing to play in its next game until former University of Missouri System President Tim Wolfe resigned.
Selig also was named a finalist in the columnist contest. He won the column contest in The Associated Press' previous contest.
The journalists credit the Missouri Method of hands-on learning in the School's professional newsrooms in setting their articles apart from others.
"I don't think there are many other papers at the under-30,000 circulation level that can devote the time and energy we did to cover a single story," Bogage said. "That's an advantage of the Missouri Method. You get the support you need to push yourself, try new things and do your best work."
He said it was gratifying to document the events that occurred last fall.
"When you put in the hard work and keep trying to improve your craft, good things happen. This recognition just puts it over the top," Bogage said. "We're very fortunate to be the beneficiaries of the hard work of so many people."
The Missourian's Tiger Kickoff section, which contained an explanatory story on "The Black Athlete," was recognized as one of the top Special Sections in the under-15,000 group.
ASPE, founded in 1974, is based at the Indiana University National Sports Journalism Center. The organization strives to improve professional standards for sports departments of professional news organizations and to recognize excellence among its membership.
Updated: September 15, 2020
Related Stories
Expand All
Collapse All
---