Convergence Students Win National Korva Coleman Excellence Award
Team Used Data Journalism Skills in Winning Story to Identify Lapses in Enforcement of Convicted Sex Offenders Laws
By Rebecca Dell
Columbia, Mo. (April 10, 2015) — A team of three Missouri School of Journalism convergence students – Bell Johnson, Shelby Mann and Lauren Slome – have won the 2015 Korva Coleman Excellence Award in the online print category for a story about convicted sex offenders living too close to Columbia schools.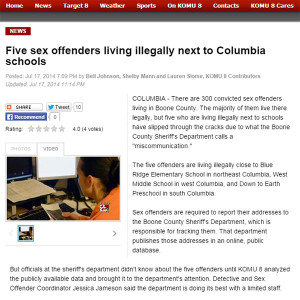 The awards program seeks to recognize top digital media work by 13- to 24-year-olds across the country. The Missouri journalism students win $1,000 and a crystal award. Mann will travel to Phoenix for the April 23 awards dinner.
The story, "Five Sex Offenders Living Illegally Next to Columbia Schools," ran July 17, 2014, on KOMU-TV. The station is the only university-owned commercial television station in the U.S. that uses its newsroom as a working lab for journalism students. The package included a TV report, an interactive map showing the offenders proximity to schools and a text piece that added context and details.
Johnson, Mann and Slome researched and wrote the story as part of the Convergence Reporting course in the summer of 2014. They found that miscommunications and limited resources in the Boone County Sheriff's Office had allowed convicted sex offenders to bypass the law.
The team analyzed publicly-available data and brought it to officials at the sheriff's department, who were unaware of the lapses.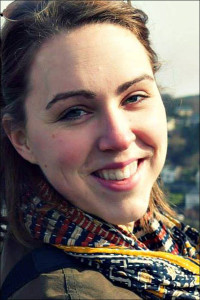 "There was a moment in the reporting where the team showed their findings to the detective in charge of the sex offender program," said Assistant Professor Judd Slivka, who supervised the story. "Her jaw dropped. Bell, Lauren and Shelby had an idea, followed it, proved it, presented it to the people who could fix it and published it. That's good journalism."
One key finding was that the GIS mapping system that the sheriff's department was using measured from the center of a property – instead of property line to property line. In some cases, that meant that the 1,000-foot requirement was met before even leaving school property. The department was not aware of this issue until the students brought it to their attention.
"We tell students to 'interview the data,' to look for patterns and find a story. That's exactly what these students did," said Assistant Professor Amy Simons, who encouraged the students to enter the contest. Simons provided some initial feedback on the story and reminded the team of safety precautions. Of note, the sex offenders might be doing something distasteful but not necessarily illegal. Some were grandfathered in as new laws were passed well after their convictions. Simons told the students they needed to make sure they weren't putting blame on someone who might not deserve blame.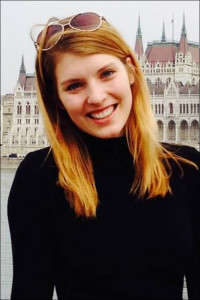 Johnson, a junior, said this story is her first big accomplishment as a journalist. She credits the win to a combination of great leadership and teamwork and ultimately, luck.
"We found this story almost on a whim, seeing some irregularities just by sifting through data and plotting points on Google Maps," Johnson said. "Working on this story brought all the theoretical lessons taught at the J-School to the forefront. Instead of just learning about it, I was living it. It was in that moment, I realized how much I have learned here."
Slome realized how much reporters need to pay attention to the details.
"I had never worked on a story so technical or statistically-oriented before," Slome said. "As a result, we spent hours plotting points and checking and rechecking addresses. I think we were all a little bit surprised by what we found, and we wanted to get it right."
Accuracy – the need to avoid fact errors – was foremost for Mann, as well.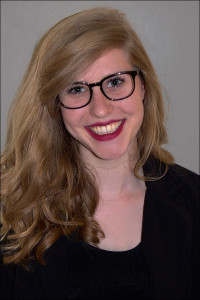 "When we were initially pitching the story, I remember Amy telling us it'd be the first and final nail in the coffin of our careers if we were wrong," Mann said. "So, naturally, we fact-checked everything an inordinate amount of times to ensure we were indeed correct."
Johnson and Slome are both interning at Thomson Reuters Television in Brussels this semester as part of their study abroad experiences. Mann interned there during the fall 2014 semester.
The story made an impression on the Columbia community when it went live.
"This story was among the most popular on the KOMU website and Facebook page during the week it aired," Simons said. "The high levels of online traffic, comments and shares tell us that it resonated with the audience on a most basic emotional level – and tells us it was a story that was as important to them to read and watch as it was for these reporters to tell."
Contest judges Julia C. Patrick, publisher and CEO of Patrick Media Group, and Monica Rohr, a narrative writer and investigative reporter with the Houston Chronicle, chose the story from 24 entries in the online print category.
The Korva Coleman Excellence Awards were established in 2013 in honor of NPR senior newscaster Korva Coleman, who grew up in Phoenix. SPOT 127, KJZZ 91.5 FM's youth media center in Phoenix, runs the program.
Updated: August 4, 2020
Related Stories
Expand All
Collapse All
---