Missouri Students Team Up with Associated Press to Produce Virtual Reality View of the New York City Subway
Columbia, Mo. (March 1, 2016) – A team of three Missouri School of Journalism students – Berkeley Lovelace Jr., Taylor Nakagawa and Haley Reed – went underground to report on a collaborative project with The Associated Press.
Students joined forces with the Associated Press through their capstone class in convergence journalism at the School and their partnership with the Reynolds Journalism Institute. Their goal was to explore multiple methods of telling virtual reality stories, using the construction of the Second Avenue subway line in New York City.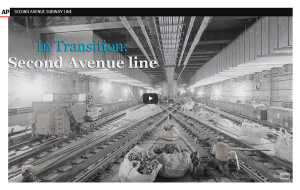 From their project, "In Transition: Second Avenue Line," students learned that each new publishing technology reinvents how consumers experience news. Their work during the class allowed them to experiment with the latest in immersive story-telling technology using virtual reality to transport news consumers to the scene of the story.
All students in the convergence capstone class work in teams to research and report, produce and edit journalistic content. Students on the virtual reality project were paired with mentors Nathan Griffiths and Paul Cheung at the Associated Press, as well as Mike McKean, associate professor at the Missouri School of Journalism.
Students traveled to New York to work with their mentors and report on the story. Following AP's high news and ethical standards, they used 360 video, panoramic photography and 3D modeling to explore the story.
Taylor Nakagawa presented his team's findings at the Journalism Interactive Conference in Gainesville, Florida, Feb. 26–27.
Updated: September 15, 2020
Related Stories
Expand All
Collapse All
---