Convergence Journalism Senior Receives $2,000 Scholarship from the Overseas Press Club Foundation
Eva Dou Will Be a Correspondent for the Wall Street Journal in Taipei after Graduation in May
Columbia, Mo. (Feb. 28, 2012) — Eva Dou, a convergence journalism senior at the Missouri School of Journalism, has won a prestigious Overseas Press Club Foundation Scholarship. She received the $2,000 award at the Foundation's 2012 Annual Scholarship Luncheon held at the Yale Club in New York City. Jeff Fager, chairman of CBS News, was the keynote speaker.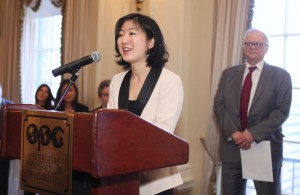 Dou also was the recipient of the Standard & Poor's Award for economic and business reporting. She received the award from Bob Arnold, BJ '52, senior vice president of global editorial for S&P. At the luncheon, she was the guest of S&P.
She was among 14 aspiring foreign correspondents selected by a panel of leading journalists from a pool of 175 applicants from 72 different colleges and universities. Dou is the fifth Missouri journalism student to win one of the prestigious scholarships since 2003.
From Detroit, Dou participated in the school's study abroad program in Brussels during the spring 2011 semester. There she helped cover the euro zone debt crisis and became fascinated with the workings of the global economy. This experience led to a summer internship with the Reuters Beijing bureau, where she worked primarily with the economic and political news teams.
In her OPC application Dou wrote about her Beijing experience and her visits to what are called "ant tribes," which are neighborhoods of struggling young workers on the edges of larger Chinese cities. There she saw the effects of skyrocketing housing prices on China's recent graduates in white-collar jobs. Fluent in Mandarin, she wrote about the largely ineffective measures China has taken to combat the issue, if only to limit the potential of political unrest.
Dou will work as a correspondent for the Wall Street Journal bureau in Taipei after graduation in May.
"Eva has a great knack for sniffing out great global business stories and finding the impact they have on our mid-Missouri audiences," said Amy Simons, assistant professor. "Her reporting is enterprising, and her stories are entertaining to read."
The OPC Foundation is the nation's largest and most visible scholarship program encouraging aspiring journalists to pursue careers as foreign correspondents. Media organizations at the luncheon included AP, Bloomberg, CBS News, Financial Times, Reuters, and the Scripps Howard Foundation.
Updated: June 5, 2020
Related Stories
Expand All
Collapse All
---