Missouri Journalism Senior Wins Prestigious Overseas Press Club Foundation Award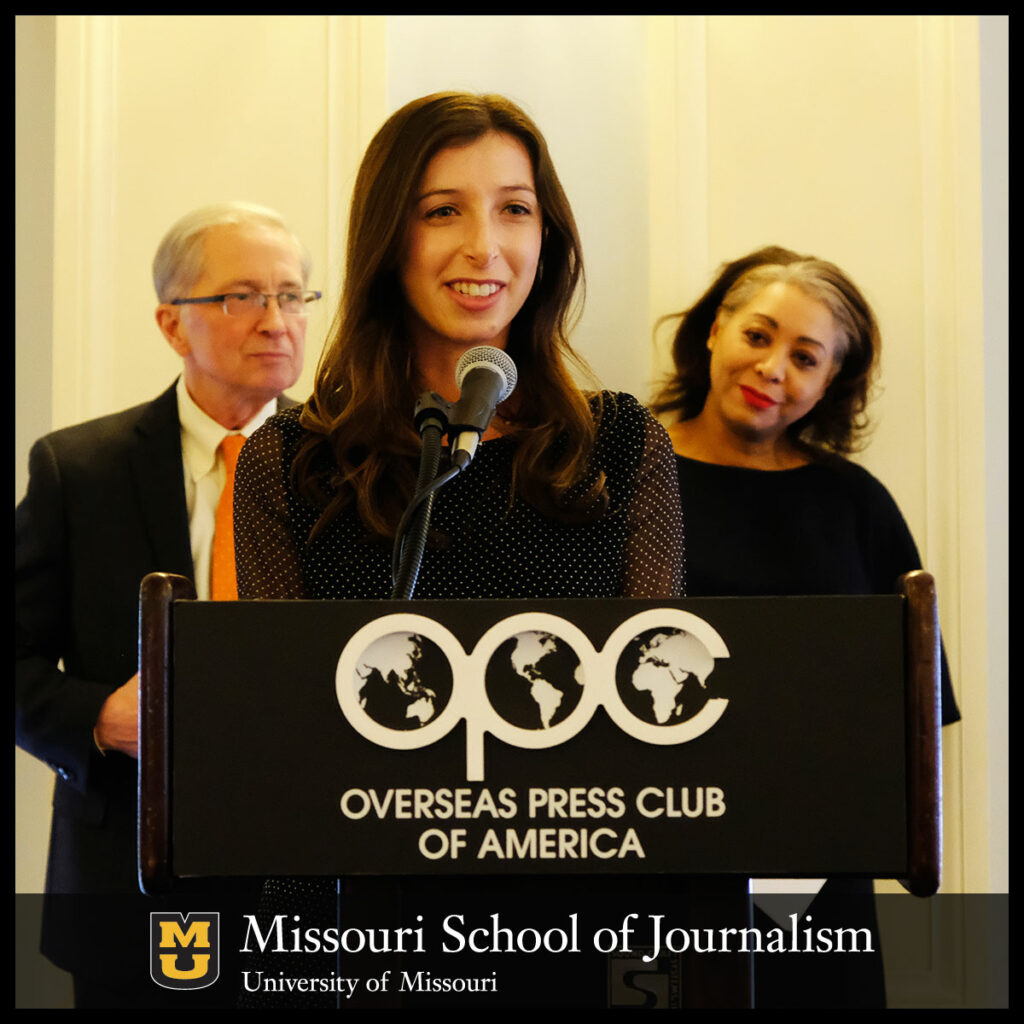 Missouri senior Daphne Psaledakis accepts the Flora Lewis Fellowship from the Overseas Press Club Foundation. Fluent in French, Psaledakis plans to return to work at the Reuters bureau in Brussels.
Daphne Psaledakis Among 16 Winners Chosen from 175 Applicants from 50 Colleges/Universities Nationwide
New York City (March 6, 2019) — Daphne Psaledakis, a senior at the University of Missouri, received an Overseas Press Club Foundation Scholar Award at the Foundation's 2019 Annual Scholar Awards Luncheon held at the Yale Club in New York City. C.J. Chivers, Pulitzer-Prize winning war correspondent for the New York Times, was the keynote speaker. Psaledakis was among 16 aspiring foreign correspondents selected by a panel of leading journalists from a pool of 175 applicants from 50 different colleges and universities.
Psaledakis was the recipient of the Flora Lewis Fellowship and received the award from Flora Lewis's friend, Jackie Albert-Simon. In her application, Psaledakis wrote about her childhood spent traveling and living abroad and how it prepared her well for a career as a foreign correspondent. In her essay, she wrote about the unintended consequences of Belgium's race-blind approach to data collecting, a story she first covered as an intern in the Reuters bureau in Brussels. Fluent in French, Psaledakis has also covered state government for the Columbia Missourian. She is fluent in French and will return to the Reuters bureau in Brussels on an OPC Foundation fellowship.
The award winners were also honored with a reception at Reuters the night before the luncheon hosted by Reuters' senior staff. On Saturday, they received risk management and situational awareness training from Global Journalist Security at Craig Newmark Graduate School of Journalism at CUNY in New York City. They also met privately with editors and freelance journalists in a special breakfast held the morning of the awards presentation and at a post-luncheon panel.
The OPC Foundation is the nation's largest and most visible scholarship program encouraging aspiring journalists to pursue careers as international correspondents. Media organizations at the luncheon included AP, Bloomberg, CBS News, GroundTruth Project, Reuters and The Wall Street Journal.
For more information on the OPC Foundation and its scholarship/fellowship program, visit the OPC Foundation website.
Updated: November 6, 2020
Related Stories
Expand All
Collapse All
---