Master's Student to Use $12,000 Fellowship to Write about China's Economic Development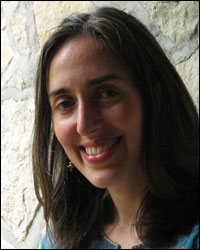 Columbia, Mo. (May 3, 2006) — Missouri School of Journalism graduate student Michelle Dammon Loyalka wants to combine her experiences living in China with her journalism education to improve reporting on China's rapid economic development.
As the recipient of the 2006 O.O. McIntyre Postgraduate Writing Fellowship, Loyalka can do just that. Loyalka was recently awarded the $12,000 fellowship in order to write a book on the rise of China. She lived there for seven years and noted a particular lack of stories addressing how the average person in China is affected by the country's rapid economic changes.
"I hope to humanize the China story. Too often all Americans know about it is the politics and the growing GDP," Loyalka said. "In the past 20 years, the country has experienced something equivalent of 100 years of change, and that's turned a lot of ordinary lives upside down. So I really hope to help people see the startling impact all this change has had on everyday life in China."
The selection committee for the fellowship, the largest offered by the School, noted Loyalka's dedication to the topic in their decision.
"Michelle's proposal was the best I have ever seen," said Brian Brooks, professor and associate dean. "It was meticulously prepared and is a tribute to her writing skills. I am anxious to read the product of her work."
Loyalka spent seven years in China after receiving her undergraduate degree from Marquette University in Milwaukee, Wis. She went to China to teach English, and she learned to speak Mandarin. She will graduate with an emphasis in magazine journalism at the School's commencement ceremonies May 12.
To be eligible for the fellowship, applicants must have earned a bachelor's, master's or doctoral degree in journalism during the previous year. Selection for the fellowship was based on a one-page statement of purpose, a narrative explaining the nature of the research and writing, a project timetable and budget, letters of reference from journalism faculty, examples of published work, evidence of financial need and a resume.
In March, Loyalka was one of 12 journalism students nationwide to win a $2,000 scholarship from the Overseas Press Club Foundation. Her winning essay, the basis for the full-length book project, described the startling psychological impact of breakneck change and social upheaval that underlie the booming Chinese economy.
O.O. McIntyre was one of the most widely known New York columnists during the 1920s and 1930s. His column, "New York Day by Day," was syndicated to 508 newspapers in every state, Canada and Mexico. Born in Plattsburg, Mo., McIntyre was raised in Gallipolis, Ohio, where he got his start in newspapers as a reporter for $5 a week.
McIntyre died in 1938, and his widow left part of his estate to the Missouri School of Journalism. In her will, she established the O.O. McIntyre Postgraduate Writing Fellowship to help aspiring writers.
Updated: April 9, 2020
Related Stories
Expand All
Collapse All
---