Four Graduate Students Named to New Knight Nonprofit News Internship Program for Summer 2019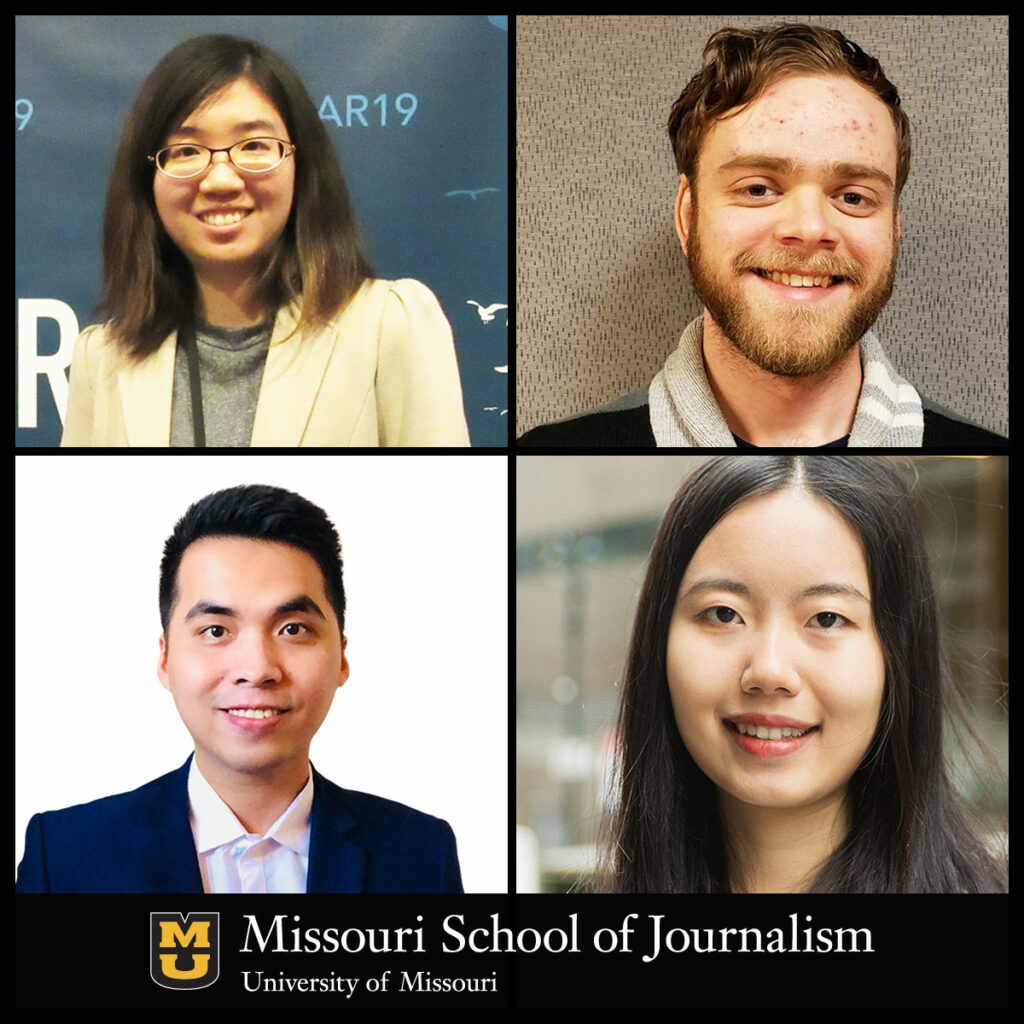 Clockwise from top-left, Missouri Journalism graduate students Peng Chen, Samuel Manas, Tiantian Zhou and Toan Quach will have the opportunity to work with emerging business models in journalism with support from the John S. and James L. Knight Foundation.
Working in Small Newsrooms Will Position Students to Learn More about Business Side of News Industry
By Jennifer Nelson
Columbia, Mo. (May 13, 2019) — Four Missouri School of Journalism graduate students will have the opportunity to work with emerging business models in journalism with support from the John S. and James L. Knight Foundation. The Knight Nonprofit News Internship program will place students in nonprofit newsrooms where they can get experience with the business side of growing a news organization.
The program was born when Damon Kiesow, Knight Chair in Digital Editing and Producing, saw a need while working at McClatchy as the director of product for the business and journalism sides of the organization to understand each other better. He and the Institute for Nonprofit News, a network of public service journalism organizations, were inspired to launch the program.
"The industry is still learning to build digital business models for local journalism," said Kiesow. "It is important our students understand the close collaboration required within news companies as we focus on these challenges. By working in nonprofit newsrooms, they get to sit next to and work with staff with different jobs, skills and goals. This will give students insights that will help them lead organizations large and small in the future."
The Institute for Nonprofit News (INN) is a growing network of more than 200 public service newsrooms, strengthening the sources of trusted news for thousands of diverse communities across North America. INN supports and builds a strong nonprofit news ecosystem through education and business support services to high-quality newsrooms and by promoting the value and benefit of investigative and other public journalism. The internships are part of an INN initiative to develop a diverse workforce and advance the fast growth of nonprofit newsrooms.
This summer's students and newsroom partners are Peng Cheng of Taiwan, who will intern at VT Digger; Sam Manas of Baltimore, who will work with The Conversation; Toan Quach of Vietnam, who will head to INewsource; and Tiantian Zhou of China, who will partner with KCUR Radio.
"Our master's program provides our students opportunities to work in all types of media organizations," said Dr. Earnest Perry, associate dean for graduate studies at the Missouri School of Journalism. "This gives the students the practical experience they need to succeed in their careers."
When asking the newsrooms where they could use the most help, a need for help with audience development and data analysis continued to pop up, said Fran Scarlett, INN's chief knowledge officer.
"Right now, audience engagement and metrics dashboards and sort of building out our ability to reflect and analyze and execute in different ways is really prime for us," said Ashley Rodriguez, donor engagement manager at INewsource. "About 75% of our budget is from individuals and with that kind of growth, I think, we're at the point now where we're saying, 'OK, how do we get bigger in terms of reach and representation and really grow at a new phase,' and I think part of that involves knowing how well we're doing, what we need to improve on and expanding our reach and kind of playing the numbers game a little bit on social media and with our newsletter."
The Knight Chair in Digital Editing and Producing budget and the partnering newsrooms are co-funding the internships. The Jonathan Logan Family Foundation is funding INN's work on the project as part of an initiative to expand career paths into investigative and other public service newsrooms and strengthen the diversity of the field.
Peng Chen, who is studying data journalism, will help with several tasks including data collection, reporting and studying the analytics at VT Digger in Vermont. Chen has been taking a computer-assisted reporting and information graphics class this semester and said she is looking forward to applying what she's learned to the work she will do at VT Digger. "I have more confidence in covering stories with tons of data or finding a story within the data," she said. "Also, I can make graphics for my own story to make it more visually attractive." Chen received her bachelor's degree from National Chengchi University. From there she went on to work as a reporter for The China Times for five years covering city government. She said she is looking forward expanding her reporting skills into investigative reporting.
Samuel Manas, who is studying investigative journalism, has been tasked with launching a newsletter, helping grow subscriptions for the newsletter and engaging with the audience on social media at The Conversation in Boston. Manas said he is looking forward to learning more about the city of Boston, building professional connections and working for an organization that "contributes to the public good." He hopes to take away "a more hands-on understanding of the creation of a digitally-native product, and in how to tailor content to a unique medium," he said. Manas received two bachelor's degrees from the University of Maryland, Baltimore County and has previously interned at organizations including WYPR in Baltimore and the Baltimore City Paper.
Toan Quach, who is studying data journalism, will work closely with INewsource's donor engagement manager and social media coordinator/web producer to build a dashboard with key performance indicators that can help the outlet develop a data culture and better understand its audience. Quach said he would like to research, learn and create a better content planning process that that the news team can make the most use of each element (photos, videos, podcasts) in the article to improve interactive performance with readers. He's also been thinking about how the team can foster more engagement with current and potential donors by various online and offline activities and how to integrate members' and readers' voices in certain stages of the reporting process, he said. "Ultimately, I would like to work with its team to figure out how to promote more transparency in the reporting process," said Quach. "Nothing can beat people's curiosity. They want to be informed. They also want to know how we get the information and how we cover the issue." Quach holds a bachelor's degree in journalism. He worked for the Zing News newspaper for three years before coming to the U.S.
Tiantian Zhou, who is studying strategic communication, will help KCUR, a public radio station in Kansas City, Missouri, to make the outlet's digital data more understandable and actionable. She will also help with better knowing and understanding audience behavior. She said she is looking forward to applying the knowledge she's learned about digital analytics tools in her digital strategy classes to a real journalism setting. "As most of my previous clients were for-profit companies, I'm excited to work as an audience development intern to obtain some hands-on experience about audience data reporting and interpretation and to see how audience metrics influence editorial decision making in nonprofit media." She earned dual bachelor's degrees in journalism from the Missouri School of Journalism and the South China University of Technology. While at MU, she worked as an account planner for AdZou and helped with research and digital optimization on advertising campaigns for organizations including Great Circle and HooliHome USA Inc. She has also previously served as a social media intern at Nanfang Media where she was responsible for operations and analytics of new platforms.
The John S. and James L. Knight Foundation advances journalism in the digital age and invests in the vitality of communities where the Knight brothers owned newspapers. Since 1950, the Foundation has granted more than $400 million to advance quality journalism and freedom of expression. Knight Foundation focuses on projects that promote community engagement and lead to transformational change. For more, visit http://www.knightfoundation.org/.
Updated: November 10, 2020
Related Stories
Expand All
Collapse All
---