Kauffman Foundation Grant Will Provide More Business Journalism Learning Opportunities for University of Missouri Students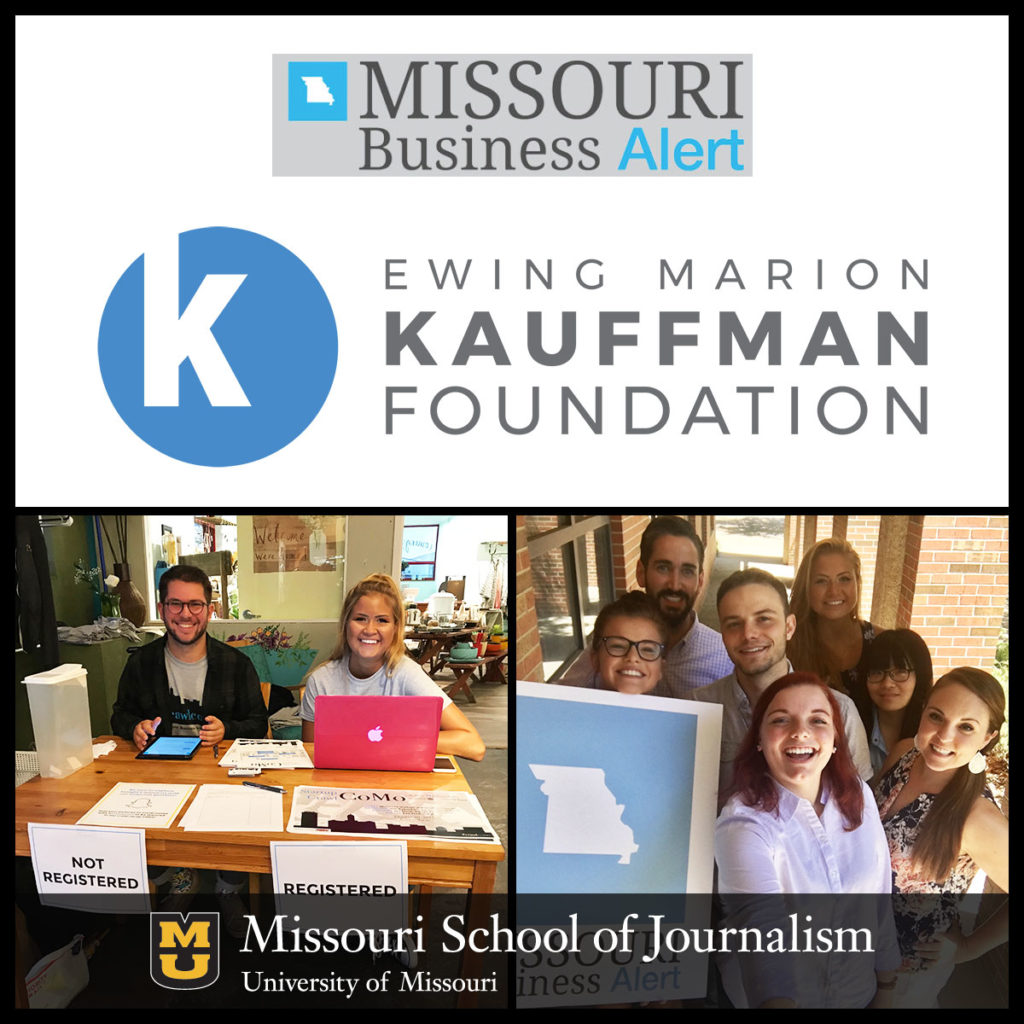 The Ewing Marion Kauffman Foundation of Kansas City, Mo., has awarded nearly $200,000 in grant funding to Missouri Business Alert to support additional reporting and internship opportunities for Mizzou business journalism students.
Plans Include More Reporting Trips, Hiring More Paid Help and Additional Event Planning Opportunities
By Jennifer Nelson
Columbia, Mo. (May 15, 2018) — Missouri Business Alert (MBA) will provide even more hands-on Missouri Method training opportunities for University of Missouri students with the help of a nearly-$200,000 grant received this spring from the Ewing Marion Kauffman Foundation.
Thanks to the grant funding, MBA's young journalists will travel more to report on underreported business and entrepreneurial stories. The grant will pay for student salaries, as well as transportation and lodging costs.
"We are pleased to help the Missouri Business Alert continue to expand its coverage in underserved communities while also strengthening its business model," says Larry Jacob, vice president of public affairs at the Kauffman Foundation. "Telling the stories of entrepreneurs, especially in underserved communities, is vital to helping reverse the long-term decline in entrepreneurship by giving people a better understanding of how anyone with an idea can make it an economic reality with commitment and by tapping into supportive networks."
Each year the MBA hires students for various newsroom, marketing, sales, and event planning roles. The grant will help MBA expand its student staff. For example, this summer MBA will employ nine students from the Missouri School of Journalism and Trulaske College of Business. They traditionally employ approximately six in the summer, says Michael Stacy, MBA managing editor.
Emma Rhyner, an MBA social media editor, has worked in the newsroom since June 2017 managing the social media channels, as well as helping with other newsroom tasks. She graduated May 13 and will be working in theater marketing. She says she feels more prepared for her new role after working at MBA.
"MBA prepared me for this by challenging me to learn how to market to a specific audience," she says. "MBA has a very specific niche, brand and audience, and it has been a fun experience to research and figure out how to reach this audience. It's a lot of trial and error, but I'm thankful for the experience at MBA that allowed me to learn all of that."
Students also help with all facets of the event planning process and event coverage. With the help of the extra funding, MBA plans to increase the number of events it organizes in the coming year to four. This past year MBA hosted two events including Startup Crawl CoMo.
"Overall, the goal of our events is to inspire, connect and educate people specifically those within the business community, but we (also) view it as sort of a complement to the news content that we produce," says Stacy.
In addition, MBA will be partnering with the Kauffman Foundation to provide paid fellowship opportunities for students. The fellows will work with the public affairs and communications team at Kauffman to develop entrepreneurial stories. The grant will help fund students' living expenses while they are working in Kansas City, Missouri.
This is the third round of funding MBA has received from Kauffman since 2016 after Stacy visited the organization with a group of students during a visit to media outlets and startups in the Kansas City area.
"This is a big endorsement of what we've been doing over at Missouri Business Alert," says Randy Smith, Donald W. Reynolds Endowed Chair of Business Journalism.
MBA launched in 2012 after students and Smith, who is also the publisher of MBA, came up with the idea to launch a publication at the Missouri School of Journalism that would provide more business coverage to the state and equip students with real-world business journalism experience.
"We have two business journalism endowed chairs here, which is really unique. Nobody else in the country has anything like this, says Smith. "Missouri Business Alert gives us a place for our students to practice and get ready for newsrooms like Bloomberg and the Wall Street Journal."
Updated: November 4, 2020
Related Stories
Expand All
Collapse All
---