Sarah Darby Receives the $5,000 Donald W. Reynolds Scholarship in Business Journalism
She Is Focusing Her Convergence Journalism Studies on Emerging Media
Columbia, Mo. (Aug. 1, 2014) — Missouri School of Journalism junior Sarah Darby is the 2014 recipient of the $5,000 Donald W. Reynolds Scholarship in Business Journalism. She is focusing her convergence journalism studies on emerging media and is earning a minor in entrepreneurship.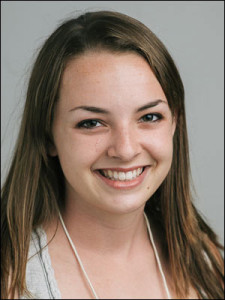 Professor Randy Smith, the Donald W. Reynolds Endowed Chair in Business Journalism, made the announcement. He works closely with Marty Steffens who holds the Society of American Business Editors and Writers Endowed Chair in Business and Financial Journalism at the School.
Darby's interest in business journalism began during a summer 2013 internship with Union Station Kansas City. She was assigned to help with social media and promotion of Maker Faire KC, a festival that celebrates technology and entrepreneurship.
Darby met many inventors and creative thinkers during the weekend event. It awakened a desire within her to have big ideas and solve problems.
"These people had an electric energy about new ideas," she said. "They weren't afraid to try new things, and they were solving tangible problems. I realized that I wanted to apply the innovative spirit I had seen to journalism."
Darby returned to school in fall 2013 with a refined focus. She added an entrepreneurship minor to her coursework and took classes offered on the topic through the School and the University of Missouri Trulaske College of Business. Darby worked as a contributor to Silicon Prairie News, an online publication that covers entrepreneurship and technology in the Midwest. She was elected co-social media coordinator for ONA (Online News Association) Mizzou and served as a 2014 summer intern at Missouri Business Alert, an online business publication about the state. Darby also attended Journalism Interactive, a conference on digital media.
"I first noticed Sarah's interest in business journalism when she was working at Silicon Prairie," Smith said. "This summer, she has written a number of outstanding stories for Missouri Business Alert. She is multi-talented, extremely bright and hard working."
The scholarship will help Darby fund a study abroad experience in Buenos Aires at an online cultural magazine through the School's Global Programs office.
"Without innovation in the business models for journalism, the profession cannot evolve," Darby said. "I want to use business journalism as a means to not only cover a topic in which I am interested, but also to apply business lessons in the newsrooms in which I work."
The Donald W. Reynolds Foundation provides funding for the scholarship. Headquartered in Las Vegas, it is one of the largest private foundations in the U.S. and has made grants totaling more than $110 million through its National Journalism Initiative.
Updated: April 22, 2020
Related Stories
Expand All
Collapse All
---