Warren Buffett Inspires, Impresses Missouri Business Journalism Students
The Group Attended the 2015 Berkshire Hathaway Annual Meeting in Omaha, Nebraska
By Yizhu Wang
Columbia, Mo. (July 1, 2015) — Ten Missouri School of Journalism students joined roughly 40,000 visitors from all over the world at the Berkshire Hathaway's 50th annual meeting on Saturday, May 2, in Omaha, Nebraska.
The main attraction was the opportunity to hear Berkshire CEO Warren Buffett, 84, and his vice chairman Charlie Munger, 91, take questions on everything from business strategy to marriage. The questions came from shareholders, analysts and journalists.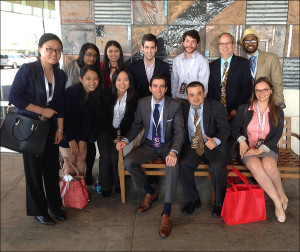 The day started early: To get a seat at the meeting, they had to be at the CenturyLink Center at 6 a.m. Many Buffett fans slept on the sidewalks so that they could be first in line.
Professor Randall Smith, the Donald W. Reynolds Chair of Business Journalism, organized the trip to Omaha with the help of Michael Stacy, editor of Missouri Business Alert.
"I brought students to the Berkshire Hathaway annual meeting so that they could hear and see, firsthand, one of the greatest financial minds in the world today," Smith said. "It's rare to experience the wisdom of Warren Buffett for seven straight hours."
Buffett said that his investment strategy has not changed in 50 years. He invests in companies that he believes in and are recognized parts of the American landscape.
In 1988, he invested more than $1 billion in Coca-Cola. The beverage company was worth nearly $180 billion in May 2015, and Berkshire Hathaway owns more than $16 billion of it.
Buffett addressed the tendency for some members of the public to blame companies for health woes; in Coke's case, for common health issues because of its high sugar content.
"Speaking for myself, I'm 84; literally, one quarter of all the calories I've consumed myself have been Coca-Cola," Buffett said. "I haven't missed a day of work since I had the prostate cancer radiation three years ago. I don't think the prostate cancer was caused by the Coca-Cola."
Smith said he hopes that students gained a great deal of knowledge on the wide variety of topics that Buffett addressed.
"Students also learned that Buffett is not without controversy," Smith said.
Buffett was questioned about Berkshire's investment in Clayton Homes, which has faced accusations of predatory lending practices. Buffett strongly defended Clayton and said he had not gotten one letter of complaint about the company.
Master's student Elizabeth Tharakan said the conference inspired her to pursue business reporting.
"Buffett and Munger are thought leaders," she said. "When a business journalist covers them, the journalist spreads ideas. Business journalists can touch the minds of the public by finding a fresh angle or perspective."
Students also had the chance to interact with other journalists at the conference, such as The New York Times' Andrew Ross Sorkin. He answered students' questions about his opinions about the meeting and his journalism career.
"Sorkin inspired me because he's persistent," Tharakan said. "He worked hard to find and create opportunities during his internships rather than applying for jobs the traditional way."
Updated: September 10, 2020
Related Stories
Expand All
Collapse All
---