Missouri Business Alert Expands to Kansas City, Adds More Hands-On Learning for Journalism Students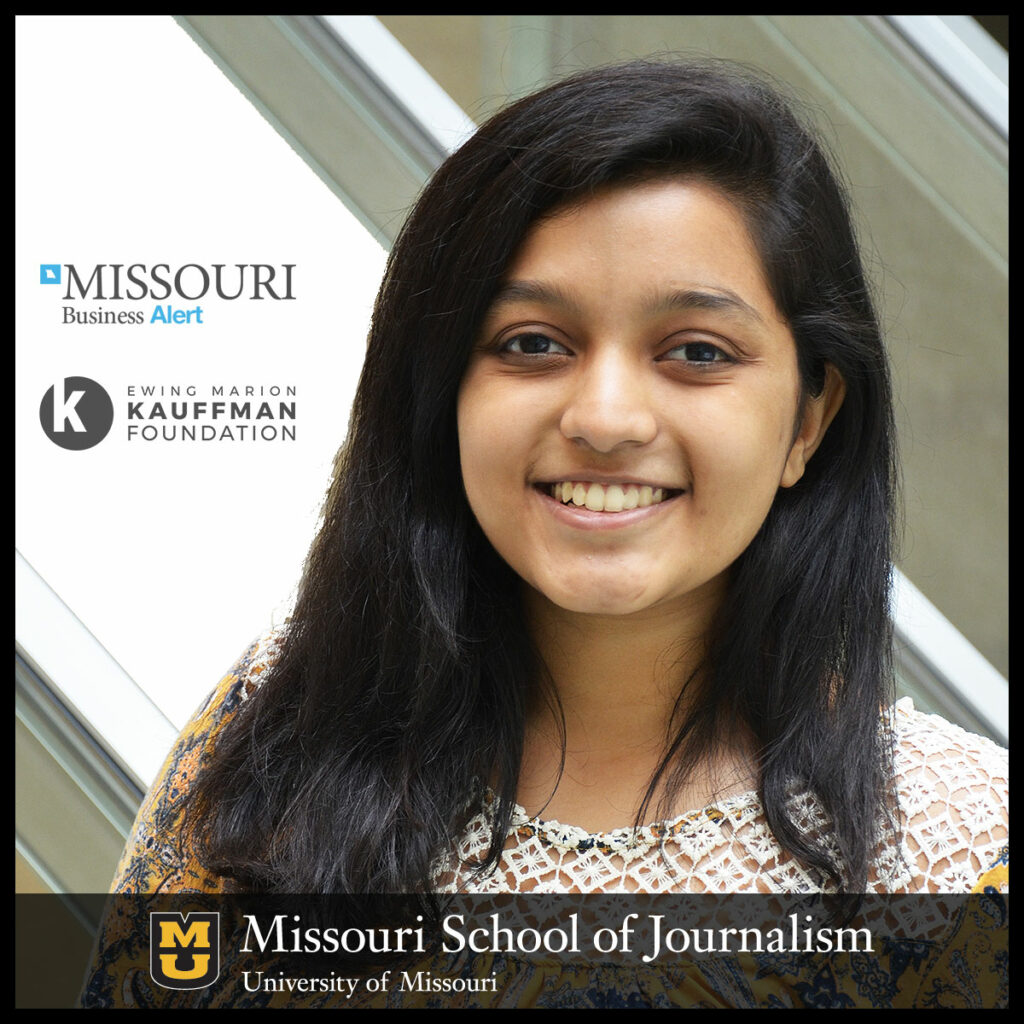 Convergence journalism junior Rashi Shrivastava, from Pune, India, will spend summer 2019 working on people-focused stories as a multimedia reporter for Missouri Business Alert in its new Kansas City, Mo., office.
Junior Rashi Shrivastava to Work Full-Time at Startland News Office This Summer
By Jennifer Nelson
Columbia, Mo. (May 10, 2019) — Missouri Business Alert (MBA) is launching a Kansas City, Mo., bureau to immerse journalists from the Missouri School of Journalism in the business and entrepreneurial communities outside of Columbia on a daily basis.
MBA plans to send junior Rashi Shrivastava, who is majoring in convergence journalism, to work as a paid full-time multimedia journalist this summer out of the office of Startland News, a digital magazine that covers the startup community in Kansas City.
Currently, MBA journalists take trips to communities across the state to report on business and entrepreneurship. However, having bureaus in some of these locations would allow the students to live in the communities where they are reporting, said Professor Randall Smith, founder and publisher of MBA.
The hope is to eventually launch bureaus in St. Louis and possibly even Springfield.
"Columbia has an active entrepreneurial and business community," Smith said. "But clearly a large portion of the business is in St. Louis and Kansas City. We want to be present in those places where lots of things are happening."
MBA and Startland will publish stories from the Kansas City bureau, said Michael Stacy, MBA managing editor, who will help guide the students in partnership with Startland.
"Startland News is eager to access the talent pipeline from Mizzou's unparalleled convergence journalism program, as well as to help add another layer to the real-world toolset of students hoping to succeed once they emerge into fast-paced communities," said Tommy Felts, editor-in-chief of Startland.
Shrivastava worked as a multimedia reporter for MBA during the summer of 2018, which gave her the chance to learn new things about writing business stories and experiment with creating her own video series called "Missouri Made."
"So when I heard about Kansas City, I thought that would be a great place to try out new things and do people-focused stories since I'm interested in that," said Shrivastava, of Pune, India.
The Kansas City bureau partnership will be funded by a Ewing Marion Kauffman Foundation grant. In addition to the Kansas City bureau, MBA sends students to the Kauffman Foundation in Kansas City for fellowships with the nonpartisan, nonprofit foundation that works with communities in education and entrepreneurship, said Larry Jacob, vice president of public affairs.
About Missouri Business Alert
Missouri Business Alert, an online business news publication located at the Missouri School of Journalism, was launched in 2012 by Randall Smith and his students. The outlet covers business and entrepreneurial news across the state of Missouri and has helped students launch careers at Bloomberg, CNBC, The Associated Press and other publications.
Updated: November 10, 2020
Related Stories
Expand All
Collapse All
---