Missouri Business Alert, School of Journalism announce $3 million gift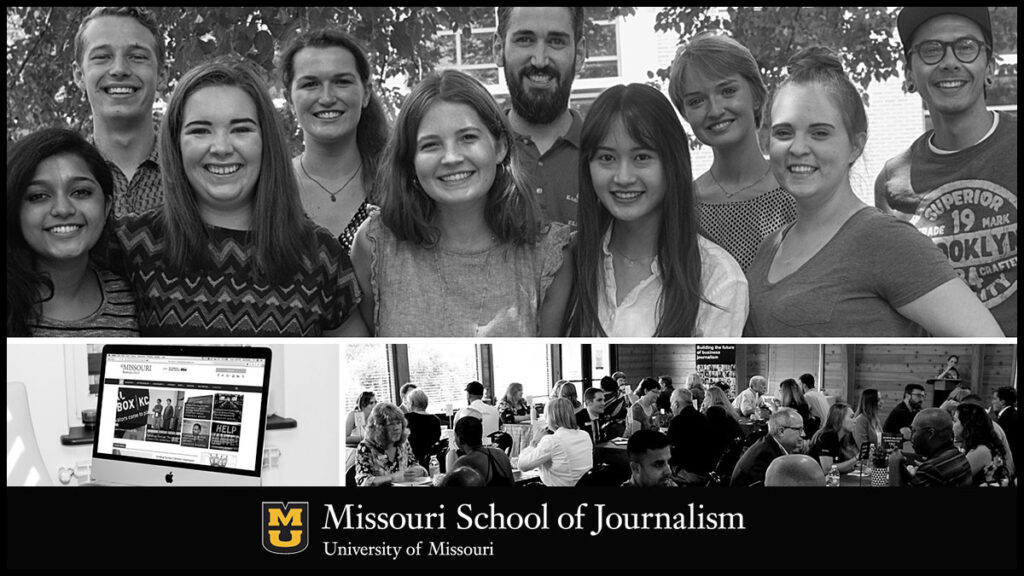 The donation is the largest in publication's history; endowment will help create a center for Business Journalism at Mizzou.
Columbia, Mo. (Aug. 26, 2020) — A $3 million gift, given by an alumna who is "grateful for her education" from the Missouri School of Journalism, will ensure the future of Missouri Business Alert and contribute to the education of students studying business journalism.
The gift, the largest in the publication's eight-year history, will create an endowment to provide scholarships, paid internships and professional mentoring for students at Missouri Business Alert. MBA is a statewide business news publication housed in the School of Journalism that provides entrepreneurial and business news to readers across the state through a mixture of traditional and dynamic distribution channels.
The alumna asked that her name be kept anonymous, but noted that her gift came from an admiration of Missouri Business Alert. David Kurpius, dean of the School of Journalism, said this gift will support the school's critical mission.
"This endowment supports our critical mission of preparing the world's best journalists to help citizens understand complex issues and make informed decisions," Kurpius said. "We are grateful for the generosity of this alumna and other supporters of business journalism at the Missouri School of Journalism as these gifts help accelerate research and improvements throughout the industry."
"Our former students, which total more than 450, now represent dozens of prestigious business news organizations across the globe," said Randall Smith, the Donald W. Reynolds Endowed Chair in Business Journalism and founder of Missouri Business Alert. "The mentorship and training they received at Missouri Business Alert prepared these students for positions at Bloomberg, The Wall Street Journal, the Associated Press, The New York Times and countless other publications."
Students working at Missouri Business Alert learn through the "Missouri Method," a time-proven style of learning that provides hands-on, career-ready experiences. From the publication's daily email newsletter, weekly podcast, networking events, multimedia content and more, students have endless opportunities to put into practice what they've learned in the classroom. The publication's goal is to keep its content flexible to provide the most well-rounded experience for students.
"[Missouri Business Alert] is a place where I made a lot of discoveries and a lot of mistakes; it trained me to look at taxes, nonprofits, filings, earnings…and piece those together to understand the larger narrative," said Maria José Valero, BJ '15, MA '17, who now works as Breaking News East Team Leader at Bloomberg News in New York City. "It gave me the knowledge and the skills I needed to do the job I'm doing today."
Missouri Business Alert also offers internships to students majoring in strategic communication, business development, marketing and related areas that help create opportunities for partnerships with the publication. Since its founding, Missouri Business Alert students have represented seven majors within the University.
The anonymous donor joins a number of other supporters of the program. Since its founding in 2012, Missouri Business Alert has received funding from multiple foundations and private donors, most notably the Ewing Marion Kauffman Foundation in Kansas City, with gifts totaling over $1.5 million prior to the endowment.
"MBA is focusing on telling the stories of Missouri-based founders, giving readers a sense of the challenges and successes entrepreneurs face every day, while also building the next generation of journalists who will have a deeper understanding of the issues facing new businesses," said Larry Jacob, vice president of public affairs at the Kauffman Foundation.
The Kauffman Foundation has been an integral part of Missouri Business Alert's success to date, with over $900,000 in grants provided to the program. That funding has provided students with paid internships, long-term fellowships and resume-boosting experiences; it has also allowed for entrepreneurial thinking within the program, from testing new reporting technologies to experimenting with subscription- and revenue-building initiatives.
"This generous gift will help one of the world's oldest journalism schools continue to educate world-class students," said Mun Choi, MU chancellor and UM System president. "Community support is what allows this institution to not only thrive but continue to innovate and create new opportunities for its students. Whether they go on to careers in print or online journalism, advocacy, marketing, or any other fields, journalism students will benefit from this gift for years to come."
With this gift, founder Smith hopes to encourage a season of giving among those passionate about student success and business journalism. The ultimate goal is to generate a large enough endowment to create the first Center for Business Journalism, which will utilize a mix of training programs, curriculum, partnerships and real-world experience to give business journalism students the best training in the world.
"The Missouri School of Journalism is uniquely positioned to train tomorrow's business journalists," Smith said. "Between two endowed faculty chairs in business journalism, an existing hands-on business newsroom, the extensive use of the Missouri Method and a journalism program hailed as the best in the world, there is no better place for this Center to be created. It will take our program and students to new heights."
Gifts to support the Missouri Business Alert can be made by visiting MBA donate page.
About Missouri Business Alert
Missouri Business Alert is a digital newsroom that keeps business decision makers and entrepreneurs informed about the stories important to them, from corporate boardrooms to Missouri's state Capitol. It is one of six professional news outlets housed in the School of Journalism where students practice what they've learned in the classroom. MBA is managed by professionals and staffed by students. The site regularly features hard-hitting and timely articles and video presentations from a statewide perspective.
Updated: December 16, 2020
Related Stories
Expand All
Collapse All
---