Senior, Recent J-School Graduate to Receive Hands-On Brand Journalism Experience via Kauffman Fellowships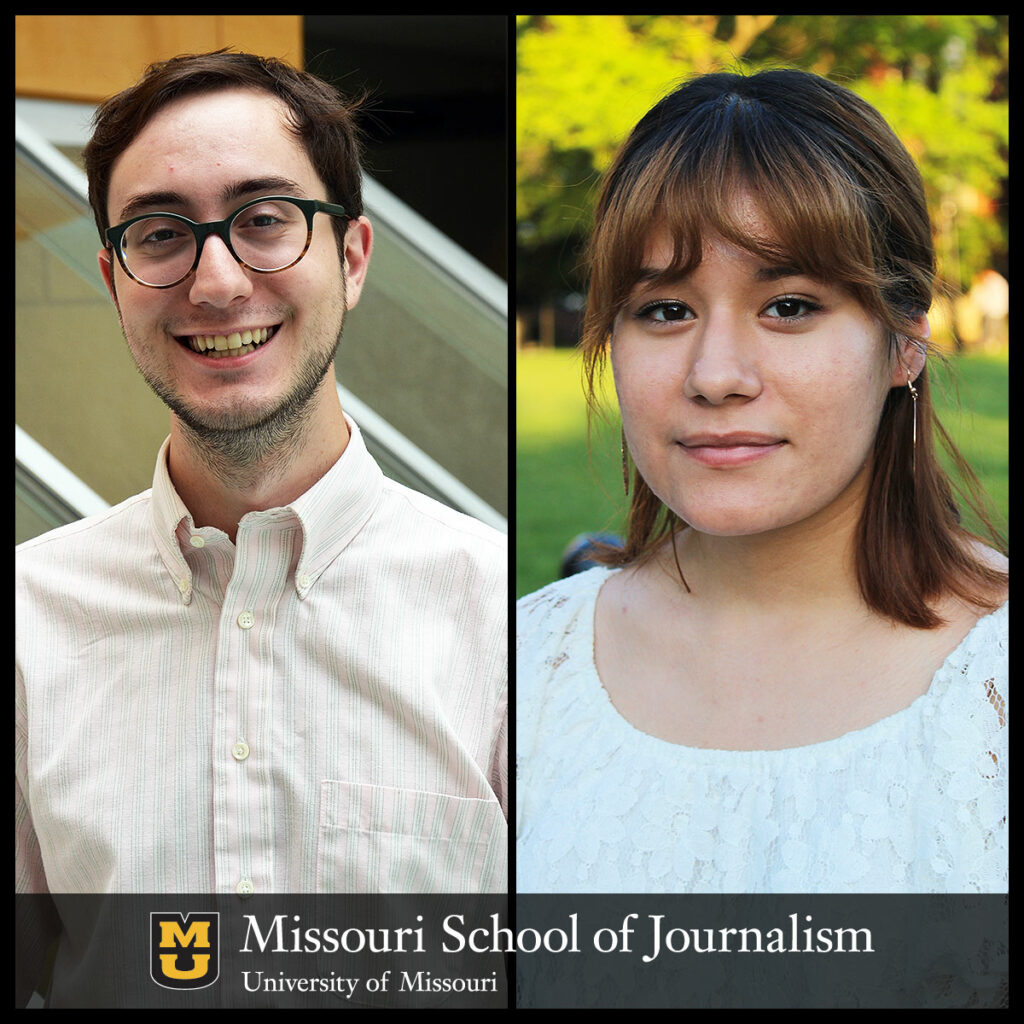 Missouri Journalism alumnus Jon Beltrano of Batavia, Illinois, and senior Sarai Vega of Kansas City, Kansas, were recently awarded fellowships to produce brand journalism and assist with content marketing through a partnership between the Ewing Marion Kauffman Foundation and Missouri Business Alert, which is headquartered at the J-School.
Fellowship Program Expanded After Partnering with Missouri Business Alert in 2018
By Jennifer Nelson
Columbia, Missouri (June 3, 2019) — Recent Missouri School of Journalism graduate Jon Beltrano, BJ '19, and senior Sarai Vega have been awarded Kauffman Fellowships through a partnership between the Ewing Marion Kauffman Foundation and Missouri Business Alert.
Fellows spend up to a year at the Kansas City, Missouri-based foundation producing brand journalism or helping with content marketing based on their interests and skills. The foundation is a nonpartisan, nonprofit foundation that works with communities in education and entrepreneurship, said Larry Jacob, vice president of public affairs.
With the announcement of the new fellows also comes the announcement of the expansion of the fellowship program from one to two fellowship positions after success the first year with both Kauffman and the students, said Michael Stacy, MBA managing editor.
"It's hard to start and grow a new business," said Jacob. "Entrepreneurship needs to be a community sport, not just focused on the person starting the business. The stories about Missourians hustling, grinding and sweating to build a business and the communities that support them need to be told. The Missouri Business Alert and the fellowship program at the Kauffman Foundation are well positioned to tell those stories."
The program launched in 2018 after Kauffman expressed an interest in strengthening its partnership with the Missouri School of Journalism and providing students with hands-on learning opportunities, said Stacy. Graduate student Valerie Hellinghausen of League City, Texas, was the program's inaugural fellow. During her fellowship, she helped develop content strategy for various events and different initiatives. She also spent time reporting and editing content for the Kauffman Currents blog.
In addition to the fellowship growth, MBA is growing by launching a reporting bureau in Kansas City this summer where students will report on entrepreneurial news and be based out of the Startland News office.
"Our decision to expand to Kansas City is part of our overall strategy to cover entrepreneurship and business in Missouri where it happens," said Professor Randall Smith, Donald W. Reynolds Endowed Chair in Business Journalism and MBA publisher and founder. "Kansas City's biggest private company, Cerner, was a dream born by entrepreneurs at a picnic in the City's Loose Park. The Kauffman Foundation was started by a determined entrepreneur who originally worked from his home. There are many similar stories in St. Louis, Springfield and Columbia. We hope to tell these stories better by immersing ourselves in the fabric of Missouri's communities."
Kauffman Foundation/Missouri Business Alert Fellows for 2019-20
Jon Beltrano of Batavia, Illinois, received a bachelor's degree in journalism with an emphasis in strategic communication. Beltrano will work with the public affairs team at Kauffman which will involve helping with consumer research and insight, as well as content marketing, copywritng and project management. He will work at Kauffman from June 2019 to June 2020.
Beltrano said he is looking forward to the opportunity to work in several different areas within Kauffman as he prepares to start a career. He said his capstone project through MOJO Ad, a student staffed advertising agency, and Branded Strategic Storytelling class are two of the top things at the School of Journalism that have prepared him for this fellowship. As a copywriter for MOJO Ad, Beltrano helped produce the State of the YaYa (Youth and Young Adult) report and an integrated campaign for Chevrolet.
"I was in MOJO Ad this past semester and got to work on a variety of projects that involved the beginning research all the way to the very end, where you had this entire advertising campaign," Beltrano said. "So that really helped me understand the process of creating any type of advertising project. Then on top of that, I got to do a class with Jim Flink…that class really taught me how to create a content marketing plan and, what really helped me get this position, is understanding how to do consumer research and then thinking of ideas to fulfill that communication need between both the brand and the consumer."
During his time at the Missouri School of Journalism, Beltrano also worked as a copywriter for Veterans Home United, served in a public relations role at Flat Branch Home Loans and was an intern at McCann-Erickson in Hong Kong where he helped create a global ad campaign.
"Jon stood out because of his experience in copywriting, consumer insights and integrated campaign developments," said Jacob. "He will be an asset to the public affairs team as we continue to reach and deeply engage niche entrepreneurship audiences."
Sarai Vega of Kansas City, Kansas, is majoring in convergence photojournalism. She is looking forward to returning to her home community for the summer to learn more about her hometown and entrepreneurship.
"I think most of the time I've seen this city (Columbia) through the scope of a journalist, which hasn't been the case in Kansas City," she said. "So when I go back home, I find myself being more curious now that I have learned more about how to be a journalist."
Vega will serve at Kauffman for the summer reporting on stories about entrepreneurship, education and the nonprofit sector in Kansas City before studying abroad in Spain this fall. During her time at the School of Journalism, she has worked as a photojournalist at the Columbia Missourian.
"We were impressed by Sarai's portfolio and the range of multimedia projects on which she's worked," said Jacob. "We liked her storytelling sensibility and her eagerness to continue to learn."
The fellowships are just one of the MBA opportunities available to students at the Missouri School of Journalism funded by a recent $285,000 grant from the Foundation. The funding will also open doors for the business outlet to send students to other parts of the state to report on underreported business and entrepreneurial stories, as well as hold more community events, where students help with all facets of the event planning process and event coverage.
About Missouri Business Alert
Missouri Business Alert, an online business news publication located at the Missouri School of Journalism, was launched in 2012 by Professor Randall Smith and his students. The outlet covers business and entrepreneurial news across the state of Missouri and has helped students launch careers at Bloomberg, CNBC, The Associated Press and other publications.
Updated: November 10, 2020
Related Stories
Expand All
Collapse All
---