Kara Tabor Wins $5,000 Donald W. Reynolds Business Journalism Scholarship
School's Business Journalism Program Helps Build Understanding of Complex Corporate and Government Finances
By Ashley Szatala
Columbia, Mo. (Oct. 7, 2015) — Convergence journalism senior Kara Tabor is the 2015 winner of the $5,000 Donald W. Reynolds Scholarship in Business Journalism. Tabor is emphasizing entrepreneurial journalism in her studies at the Missouri School of Journalism and is working toward a minor in business.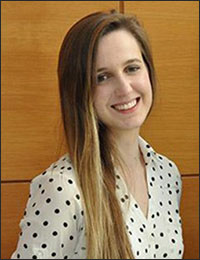 "I'm absolutely elated and blown away," Tabor said.
Business journalism affected Tabor's life from an early age, when she had to wait until the closing bell before she could turn the TV channel to cartoons. Of business journalism, Tabor said the field provides a limitless source of stories: "Money is the catalyst for so many different things in our society."
Tabor has worked at Silicon Prairie News, which covers tech startups in Missouri, Iowa, Kansas and Nebraska, and Missouri Business Alert, a digital newsroom that covers business news in the state.
She also worked on Business Beat for KBIA-FM, where she was responsible for a four-minute-long business-oriented show that ran during NPR's "All Things Considered" program.
"This scholarship will help ensure that tomorrow's business journalists truly understand the complexities of corporate and government finances and are able to help citizens understand the issues," said Professor Randall Smith, the School's Donald W. Reynolds Endowed Chair in Business Journalism. "There is much hiring in business journalism. It's an area that more students are starting to contemplate, even as freshmen."
Since joining the School's faculty in 2009, Smith founded Missouri Business Alert and created three new courses and updated two others in the business journalism field.
The Donald W. Reynolds Foundation provides funding the scholarship. Headquartered in Las Vegas, Nevada, it is one of the largest private foundations in the U.S. and has made grants totaling more than $110 million through its National Journalism Initiative.
Updated: September 10, 2020
Related Stories
Expand All
Collapse All
---