Roger Fidler Named Inaugural Fellow of the Donald W. Reynolds Journalism Institute
Columbia, Mo. (Aug. 23, 2004) — Roger Fidler has been named the inaugural Visiting Fellow of the Donald W. Reynolds Journalism Institute at the Missouri School of Journalism. He plans to launch the world's first live digital newspaper edition through the school's community daily, the Columbia Missourian, as his Fellow's project.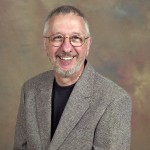 The Reynolds Institute is a new center at the school that focuses on advanced studies of journalism and its role in democratic societies. Fellows work with students, faculty and professionals to undertake experimental projects aimed at improving the practice or understanding of journalism. The Institute was announced in February with a $31 million grant from the Las Vegas, Nevada-based Donald W. Reynolds Foundation. Its physical facilities are scheduled to open in 2007.
"Roger will have access to Missouri's technology- and media-rich environment and some of the world's best practitioners and students to help him introduce this first live edition," said Dean Mills, dean of the Missouri School of Journalism.
Information gained throughout this research project will provide tips on how to integrate the production of a digital edition into the workflow of a functioning newsroom. It is anticipated that new advertising and other sponsorship models will emerge in the process. The potential result of all efforts will be adding value for readers and advertisers.
"We don't have definitive answers as to how many people need to be dedicated to this task, what kind of training they may need or what ancillary factors might need to be considered," said Fidler.
Research about ease of use, design, access to print and Web capabilities and other related areas will be conducted when the first issue is put in the hands of daily readers. Results of the launch will be applied to future issues and shared with industry.
Fidler began developing the idea of using portable flat-panel reading devices called tablets to display newspapers, books and other electronic documents in 1981. Ten years later, he created the first prototype electronic newspaper designed specifically for viewing on magazine-size tablets while he was a Freedom Forum Media Studies Fellow at Columbia University.
Since 2001, the Los Angeles Times and Adobe Systems have sponsored his efforts to develop a format for electronic editions of newspapers that would take full advantage of the pen-based tablet PCs, which were introduced in November 2002. The format (now known as the KENT Format) blends the familiar characteristics of printed newspapers with the hypermedia features of the Web. For his innovative work in digital publishing, he was named one of four finalists in 2003 for the World Technology Award in Media and Journalism and inducted as a World Technology Network Fellow.
Fidler is the author of Mediamorphosis: Understanding New Media (Pine Forge Press, 1997) and numerous articles and book chapters. In 1999, the Freedom Forum Newseum honored Fidler as an electronic news pioneer and one of history's "Most Intriguing Newspeople" in its book Crusaders, Scoundrels, Journalists (Eric Newton, ed., Times Books/Random House). He is a frequent speaker at conferences worldwide on topics relating to electronic publishing, new media and the future of print media.
He attended the University of Oregon (1962-66) and earned a Master's Degree in Journalism and Mass Communication from Kent State University in 1999. In 2004 he was inducted into the University of Oregon School of Journalism's Hall of Achievement.
About the Missouri School of Journalism and Donald W. Reynolds Foundation
The Missouri School of Journalism has been known from its founding in 1908 for its hands-on approach to journalism and its strong ties to working professionals. The school operates a community daily newspaper, an NBC television station, an NPR-affiliate member station, an international magazine, a weekly city magazine, IPI Global Journalist magazine and a monthly Spanish-English publication.
The Donald W. Reynolds Foundation is a national philanthropic organization founded in 1954 by the late media entrepreneur for whom it is named. Headquartered in Las Vegas, Nevada, it is one of the 50 largest private foundations in the United States.
Updated: March 16, 2020
Related Stories
Expand All
Collapse All
---