4 Missouri Journalism Faculty and Staff Members Retire
Phill Brooks, Roger Fidler, Dean Mills and Daryl Moen Leave a Legacy of Teaching, Innovation and Leadership
Columbia, Mo. (May 21, 2015) — Missouri School of Journalism faculty and staff recently gathered to recognize the retirements of four faculty and staff members. Phill Brooks, Roger Fidler, Dean Mills and Daryl Moen leave a legacy of teaching, innovation and leadership during their more than 100 years of service to the University of Missouri.
Brooks has directed the School's State Government Reporting Program in Jefferson City. He has been a statehouse reporter since 1972, making him the dean of the Missouri statehouse press corps. Prior to joining the faculty, Brooks had been the Congressional reporter for NPR and morning news editor for Time-Life Broadcast in Denver. Since 1997, he has been the statehouse correspondent for the CBS owned-and-operated station in St. Louis, KMOX. Brooks has consulted on computing in journalism in the U.S. and Europe for a variety of newsrooms and computing firms. He designed and programmed the world's first newspaper microcomputer network city desk system. He has managed Missouri Digital News, the multimedia website on state government news.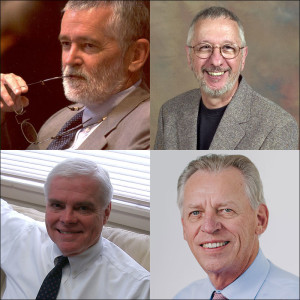 Roger Fidler, an internationally recognized new media pioneer and visionary, joined the Reynolds Journalism Institute in 2004 as its first Fellow and continued his work there as program director for digital publishing. He is best known for his tablet newspaper vision, which he first wrote about in 1981 and visualized in a 1994 video produced by the Knight-Ridder Information Design Lab, which he founded and directed. He worked in the newspaper industry for 34 years in a variety of roles. Fidler is the author of "Mediamorphosis: Understanding New Media" and the recipient of numerous international awards for his work in advancing technologies for journalism.
Dean Mills became the School's eighth dean in 1989. Among the many accomplishments during his tenure is the Donald W. Reynolds Journalism Institute, a leading research and development center for journalists and citizens, launched with a $31 million gift from the Donald W. Reynolds Foundation. The Foundation later gave an additional $15 million for operating expenses and, in 2012, placed $30.1 million in an endowment for the institute's future. In addition, eight endowed chairs were added; four buildings were built or rebuilt, funded almost entirely with private funds; the School launched online versions of its media properties; a new online master's degree program was launched; and national professional organizations moved their headquarters to Missouri. See related: "Dean Mills: A Lifetime in Journalism, A Legacy as School of Journalism Dean."
After serving as editor of two daily newspapers, Moen joined the School in 1974 to begin a career of designing, writing and teaching. He served as editor of the Columbia Missourian for his first 10 years. Moen has redesigned 18 newspapers and given more than 200 seminars on writing and design in the U.S. and abroad. He has been a speaker at the Society of News Design national workshop and the National Writers Workshop several times. He is the author or co-author of four textbooks and co-editor of "What Good is Journalism?" Moen also served as director of mid-career programs, department chair and interim associate dean.
Updated: September 8, 2020
Related Stories
Expand All
Collapse All
---