Dean Mills Honored as Recipient of Pacheco Leadership Award
Columbia, Mo. (Sept. 20, 2005) — The University of Missouri has announced that R. Dean Mills, dean of the School of Journalism at the University of Missouri-Columbia, is the 2005 recipient of the Manuel T. Pacheco Academic Leadership Award. Mills was presented with a plaque and a $2,500 award at the Leadership Development Program Kickoff/Alumni Dinner, Sept. 19, at the Lodge of the Four Seasons at the Lake of the Ozarks.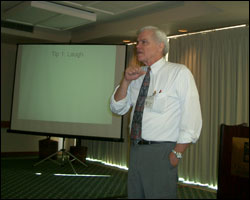 Mills shared his views and exchanged ideas on leadership in university settings during a group session of the LDP earlier that day. The podcast, "My Top 10 Tips for Leaders," is available on this page. Mills has served as dean of the School of Journalism for the past 16 years. Under his leadership, the school has created three research centers and currently serves as the headquarters for five professional organizations. He has led numerous fundraising efforts, including a $31 million gift, the largest in the University's history, to create the Donald W. Reynolds Journalism Institute. Mills also has worked to increase the number of endowed chairs and to improve the quality and diversity of students in the school. "Dean Mills thinks big. His vision is for the Missouri School of Journalism to retain and grow its indisputable reputation as the best school for the betterment of journalists and the journalism of tomorrow," said Pam Johnson, executive director of the Reynolds Journalism Institute. "He is truly a remarkable leader and dean."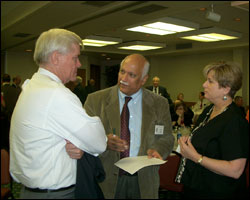 Before coming to Missouri in 1989, Mills served as director of the Pennsylvania State University's School of Journalism and then as coordinator of graduate study in communications at California State University, Fullerton. Mills' research has focused on journalism in the former Soviet Union and Eastern Europe, journalism ethics, reporting techniques, new media technologies and the coverage of diversity and minority issues in U.S. media. He received a bachelor's degree in Russian and journalism from the University of Iowa, a master's degree in journalism from the University of Michigan, and a doctorate in communications from the University of Illinois. The Manuel T. Pacheco Academic Leadership Award was created in 2002 and is presented to an academic administrator who exemplifies outstanding academic leadership at the University of Missouri. Former University of Missouri President Manuel T. Pacheco was recognized as a leader who exhibited humility and respect for others, and worked diligently to develop leaders around him. Award winners exemplify these characteristics. Nominations can be made by members of the President's Academic Leadership Institute advisory committee or any alumni of the University of Missouri Leadership Development Program. A University-wide committee reviews the nominees. The Leadership Development Program was initiated by Pacheco in 1999 to develop leaders at all four UM campuses.
---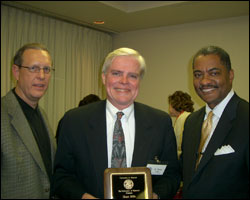 Faculty Comments
Edited by D'Arcy Rapp
Kent Collins on working with Dean: "Dean encourages the faculty to think about the big stuff that really matters, to fight the good fights in journalism. Radio and TV people like me don't like dead air and silence, but in meeting with Dean, he uses dead air so both he and I can think."
Esther Thorson on Dean's vision for the J-School:"Dean has incredible vision. He looks at the media and academic environments to see where we fit in the big picture. Far-reaching vision makes the difference between a school that is just okay and an amazing place like our J-School. Dean has raised millions of dollars and has really brought great growth to the school through this funding. This allows us to expand what we do as journalists, and, of course, push forward with the founding of the Donald W. Reynolds Journalism Institute."
Cynthia Frisby on Dean's relationship with faculty: "As a mentor, Dean is incredibly encouraging and supportive. When I came to the University, I'll never forget when Dean came to me when I was having trouble getting published. After taking the time to watch how I teach, he said that I wrote like I spoke. A good speaker repeats points, while a scholarly paper should just say things once. That was why I had been having trouble. He had realized something I hadn't, and it resulted in my work getting published abundantly."
Brian Brooks on Dean's accomplishments as a dean: "Dean is the senior dean on campus and is very well respected by the administration of the University. It's good to know that the J-School's view is heard up the Quad at Jesse Hall. Dean's the fifth dean I've worked with since I've been here, and I'd definitely say the best. You just can't argue with what he's done. He's done a terrific job."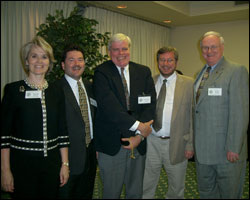 A Snapshot of Leadership
1989
R. Dean Mills becomes Dean of the School of Journalism.
1991
Major grant from the Ford Foundation to study diversity in major media organizations received.
Professional practice track created.
1992
Stephenson Research Center dedicated to William Stephenson.
Groundbreaking for Lee Hills Hall occurred.
Digital Missourian launched.
1994
Digital Missourian went live on the Internet.
The International Programs Office formed.
1995
Lee Hills Hall dedicated.
Lee Hills Chair in Free-Press Studies endowed.
1997
Knight Chair in Editing endowed.
Missouri is the first school of journalism to require a class on cross-cultural journalism.
1998
Curtis B. Hurley Chair in Public Affairs Reporting endowed.
Houston Harte Chair in Journalism endowed.
Maxine Wilson Gregory Chair in Journalism Research endowed.
1999
The New York Program established to provide professional training for students.
Graduate Studies renamed to Earl English Graduate Studies Center.
2000
Missouri Chair in Community Newspaper Management endowed.
SABEW Chair in Business Journalism endowed.
Five-Year Master's (BJ/MA) program launched.
Radio instruction via KBIA restarted.
2001
Online master's degree program launched.
Journalism School and School of Law create seven degree and certificate programs.
2002
Major grant from U.S. Department of State to work with Moscow State University in Russia received.
Center for the Digital Globe established in conjunction with four other University colleges.
Walter Williams Society, donor recognition program created.
National Newspaper Association located at School.
2003
Major grant from U.S. Department of State to work with the Independent Journalism Center of Moldova received.
Walter Williams Scholars program for incoming students with 33+ ACT (1470+ SAT) scores created as a complement of the Journalism Scholars program.
2004
School received a $31 million grant to create the Donald W. Reynolds Journalism Institute. The gift is the largest in the history of the University.
MyMissourian, grassroots journalism by mid-Missourians, launched.
Prime Lab, a research lab that focuses on psychophysiological methods, opened.
2005
MoJo Ad agency established.
Groundbreaking celebrated for the Reynolds Journalism Institute.
EmPRINT, an innovative electronic newspaper format, launched.
National Freedom of Information Coalition moved headquarters to Missouri.
Convergence Journalism sequence created.
Faculty reorganized into seven groups.
American Health Care Journalists moved headquarters to School.
---
D'Arcy Rapp, a senior from Peoria, Ill., is majoring in Radio-TV Journalism. She has interned with two NPR affiliates and with Fleishman-Hillard public relations and has created television promotions for a KOMU-TV. Rapp has served as a University Tour Guide, Journalism Ambassador, Summer Welcome leader and Peer Advisor in the residence halls. An active member of the Alumni Association Student Board and Newman Center, Rapp was recognized as one of the campus' top students when tapped into Omicron Delta Kappa, a national leadership honorary society.
Updated: April 7, 2020
Related Stories
Expand All
Collapse All
---