Dean Mills and Lewis Diuguid, BJ '77, Honored by American Journalism Historians Association
Columbia, Mo. (Oct. 24, 2011) — The American Journalism Historians Association honored Dean Mills, dean of the Missouri School of Journalism, and Lewis W. Diuguid, BJ '77, a columnist for the Kansas City Star, for their outstanding contributions and support of media history during the opening reception of the organization's annual convention.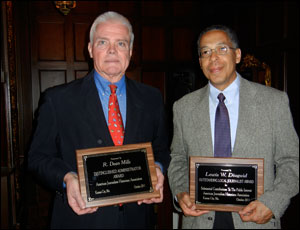 Mills received the group's first Distinguished Administrator Award. He was a unanimous choice, said Julie Williams, who chaired the selection committee.
"Dean is an administrator who has consistently gone above and beyond to help out AJHA," Williams said. "He has not only been supportive of his faculty who research and publish in the field of media history, but also he has supported the organization through sponsorships."
Mills has served as dean of the School of Journalism for the past 22 years. Under his leadership, the school has created three research centers and currently serves as the headquarters for five professional organizations. He has led numerous fundraising efforts, including a $31 million gift, the largest in the University's history, to create the Donald W. Reynolds Journalism Institute. Mills also has worked to increase the number of endowed chairs and to improve the quality and diversity of students in the school.
Diuguid received the Local Journalist Award. He serves as a member of the Star's editorial board and is a co-chair of the paper's diversity initiatives. Diuguid has funded scholarships to help students of color pursue careers in journalism.
"Lewis is a unique voice not only in the African-American community of Kansas City, but in the metro area as a whole," said Earnest L. Perry Jr., AJHA past president and associate professor of journalism studies at the Missouri School of Journalism. "When we chose Kansas City for our annual conference, Lewis was my first choice for the local journalist's award. His commitment to journalism and reinforcing its role in the community is unsurpassed."
More than 130 media historians attended the three-day meeting held Oct. 6-8 in Kansas City. The School's five media historians – Perry, Keith Greenwood, Berkley Hudson, Yong Volz and Tim Vos – along with doctoral students You Li and Paula Hunt presented research, moderated panels and hosted events during the conference. The Missouri School of Journalism served as a sponsor of the AJHA convention.
The AJHA was founded in 1981 to develop research and teaching of media history. The AJHA publishes the quarterly journal, "American Journalism."
Updated: June 4, 2020
Related Stories
Expand All
Collapse All
---