Assistant Professor Cristina Mislán Named 2019 AJHA Rising Scholar Award Winner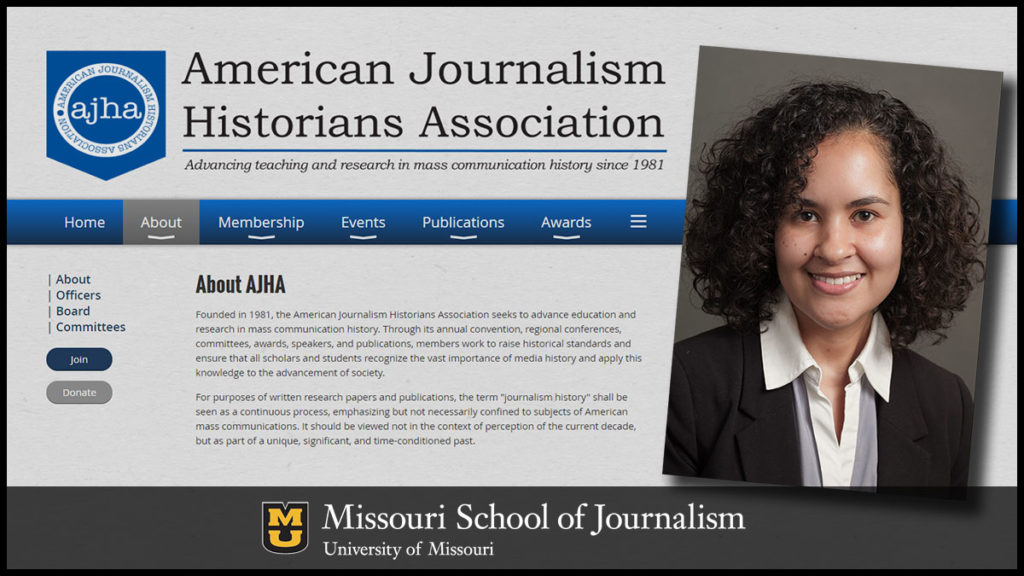 The Rising Scholar honoree is chosen annually by the editors of American Journalism.
Columbia, Mo. (Aug. 23, 2019) — The editors of American Journalism, the peer-reviewed quarterly journal of the American Journalism Historians Association, have announced Cristina Mislán, assistant professor at the Missouri School of Journalism, as this year's AJHA Rising Scholar award winner.
The Rising Scholar honoree is chosen annually by the editors of American Journalism. The award is designed for scholars who show promise in extending their research agendas.
Mislán is part of the doctoral faculty at the Journalism school and teaches courses in cross-cultural journalism, gender and media, qualitative research methods and critical theory. Currently, she is working on a book that will address a unique angle of coverage of the Cuban Revolution.
"I am honored to receive the 2019 Rising Scholar Award," Mislán said. "This award will allow me to complete my first book, which analyzes how Black journalists, writers, publishers, and editors imagined the Cuban Revolution of 1959. In taking a deep dive into approximately six decades of media coverage, I hope to join a growing group of scholars who have provided indispensable insight into the critical role that the Black press played in shaping this nation's history."
Mislán will be formally recognized during the 38th Annual AJHA Convention, which will be held Oct. 3-5 in Dallas.
"Dr. Mislán is a dynamic young scholar," said Earnest Perry, associate dean for graduate studies. "Her work on the role of the Black Press in Cuban/American relations is a significant contribution to Civil Rights history in our field."
Founded in 1981, the American Journalism Historians Association seeks to advance education and research in mass communication history. Members work to raise historical standards and ensure that all scholars and students recognize the vast importance of media history and apply this knowledge to the advancement of society.
Updated: January 3, 2020
Related Stories