Two Missouri School of Journalism researchers earn spots in university-wide Arts and Humanities Research Fellows Program
COLUMBIA, Mo. (May 10, 2023) — Assistant Professor Luke Capizzo and Associate Professor Cristina Mislán of the Missouri School of Journalism have been accepted into the 2023-2025 cohort of the Arts and Humanities Research and Creative Works Fellows Program. Administered by the University of Missouri's Office of the Provost, the program provides up to $12,500 in stipends per fellow along with other support and mentorship resources.
"Luke and Cristina are performing research that guides the industry forward while making a difference in peoples' lives, from studying the effects of climate disasters on the voices of marginalized communities to bringing social responsibility and activism into public relations," said David Kurpius, dean of the School of Journalism. "This support from the university is a powerful investment in the future of that work from two passionate researchers in journalism and strategic communication."
The cohort is the second since the program's launch last year. Associate Professor Keith Greenwood is part of the 2022-2024 cohort and is delving into the history of photojournalism at military newspaper Stars and Stripes.
Read on to learn more about how the program will support the work of Capizzo and Mislán. Additional information about the program and related initiatives from the Office of the Provost can be found here.
Meet the fellows
Luke Capizzo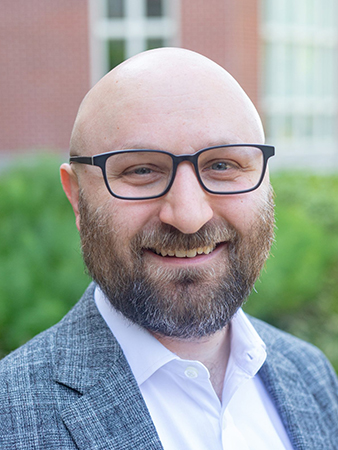 Luke Capizzo joined the School of Journalism last year, bringing with him experience as both a public relations professional and an educator. The program will help him complete a book he is working on under contract with academic publisher Routledge: an exploration of the history, power and potential of social impact in public relations.
"As an industry, we have looked at public relations and its potential for social impact kind of piecemeal — we haven't theorized around the profession of public relations being more wholly centered in that social impact space," Capizzo said. "Especially in a time of increasing mis and disinformation and mistrust of communication from organizations, there is a lot of value in doing more to reinforce what clear, societally-oriented professional values would be."
In keeping with Capizzo's view of public relations as a relatively young field that still has growing to do, the book will seek inspiration from fields such as law and medicine, which he said more clearly articulate their social value through standards like medicine's principal of "do no harm." It's all part of what he calls a more civic-minded approach to what organizations should be and how they should represent themselves. It's also larger in scope than a typical research paper, making the fellows program's support a particularly timely and helpful contribution.
As part of the program, Capizzo will receive a stipend that will go toward fleshing out aspects of the book, such as indexing — a crucial but labor-intensive step that will make the end product more searchable and, therefore, more useful to people in the industry. In addition, a "course release" will allow Capizzo to temporarily lighten his teaching load, giving him additional time to complete the book.
"This support means a lot and is a significant part of helping us grow as scholars and have an impact," he said. "I'm really grateful that, given this opportunity, I'll have the space to do this work in a way that will connect to the profession and speak to the ways that people are using these ideas in all different kinds of organizations.
Cristina Mislán
Cristina Mislán has served at the School of Journalism since 2014, and her acceptance into the program represents the next stage in a project that began with funding from the School of Journalism's Donald W. Reynolds Journalism Institute in 2022.
Mislán is seeking to understand how marginalized communities impacted by environmental disasters reclaim their agency by telling their stories. The project highlights how firsthand accounts can encourage journalists to cover marginalized communities with greater sensitivity and equity.
The research will culminate in a book that will feature oral histories and documentation both about marginalized people and the places in which they live, allowing Mislán to build a more complete picture of how place, people, climate and the landscape intertwine over time.
"It goes beyond the current community — it's also about the past," Mislán said. "It's about lineage and long relationships with the geography. Yes, people stay in one place because of community, because of family and because of economic resources, but also because they have a long tradition of fighting for the land that their ancestors were forced to plow."
Much of this work has centered around New Orleans, which was hit by the catastrophic Hurricane Katrina in 2005 and has since been impacted by a number of other major hurricanes, including Ida in 2021. Another focus — and another place with family roots for Mislán — is Puerto Rico. She hopes to weave the perspectives and insights she gains from residents with her own thoughts and experiences. This ethnographic approach is a genre of research that places personal experiences into larger social and political contexts.
To that end, the program's stipend will help fund travel, analysis of documents and archives (including old maps showing the historical locations of levees), and the hiring of a graduate student to assist with the research.
Mislán also highlighted the importance of the program's other forms of support, such as guidance on grant writing and monthly meetings with the interdisciplinary cohort of researchers. The Office of the Provost also lists perks such as "an external mentor, spaces for writing retreats, support for grant writing and panels and discussion forums on topics pertinent to arts and humanities scholars."
"It's great to be part of a community of other writers, scholars and thinkers," she said. "You get so much from other people when you share your work, and that's part of it: how might being part of this scholarly community help me think about the project and what I want to come out of it?"
Updated: May 10, 2023
Related Stories
Expand All
Collapse All
---