12 Journalism Students, 1 Professor Tapped into Secret Honor Societies
Honorees Are Selected for Service, Leadership and Commitment to MU Community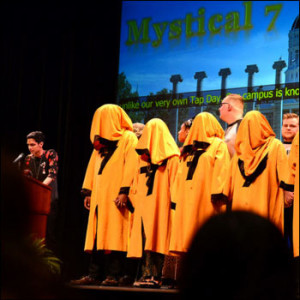 Columbia, Mo. (April 25, 2016) — Twelve Missouri School of Journalism students and one faculty member were among the 69 inducted into five secret societies at the 89th annual Tap Day at Jesse Auditorium on the University of Missouri campus.
The event, organized by members of the organizations, unveils and recognizes the newest inductees. New members are chosen based on their service, leadership, and commitment to the University of Missouri community.
Many of the societies also induct staff and faculty as honorary members to recognize the positive impact they have on students.
MU's six societies are LSV, Mortar Board, Mystical Seven, Omicron Delta Kappa, QEBH and the Rollins Society.
Here are the journalism student and faculty inductees for five of the societies:
LSV Society
LSV was formed in 1908 by a group of women students concerned about the status of women on the University campus and in society as a whole. Each year the organization recognizes the most outstanding upper-class students who, through their individual service to the University and the community, continually strive to promote and improve the status of women.
Veronike Collazo, undergraduate journalism and political science student from Leesburg, Virginia
Cristina Mislan, assistant professor, journalism studies
Sarah Rolufs, undergraduate journalism student from Rolla, Missouri
Mortar Board
Mortar Board provides opportunities for continued leadership development and encourages lifelong contributions to the global community, while promoting service to the University.
Nora Faris, undergraduate journalism major from Concordia, Missouri
Mary Kate Kelly, undergraduate journalism student from Kansas City, Missouri
Mystical Seven
Mystical Seven honors seven men and women of the University who have displayed selfless leadership and exemplary character. Founded in 1907, it is the second oldest recognized secret honorary society at the University.
Simona Gupta, undergraduate journalism student from Charlotte, North Carolina
Meg Vatterott, undergraduate documentary journalism student from St. Louis
Omicron Delta Kappa
Omicron Delta Kappa, a national leadership honor society, seeks to recognize high achievers in collegiate activities, to bring together a representative group of students and to bring together the faculty and student body on a basis of mutual interest and understanding.
Jillian Mullin, undergraduate journalism student from Lenexa, Kansas
Zack Newman, undergraduate convergence journalism student with an emphasis in radio-television from Ellicott City, Maryland
Allison Pierce, undergraduate journalism and women's and gender studies student from Fulton, Missouri
Emily Russell, undergraduate journalism student from Bloomington, Illinois
QEBH
QEBH, founded in 1898, is the oldest recognized secret honor society at the University. Its founder desired to unite exemplary campus citizens based on their selfless dedication to the University and excellence in personal character.
Adam Dietrich, undergraduate documentary journalism student from Gilberts, Illinois
Sean Miller, undergraduate journalism student from Darien, Illinois
Updated: September 24, 2020
Related Stories
Expand All
Collapse All
---