11 journalism students, 1 professor inducted into secret societies during annual Tap Day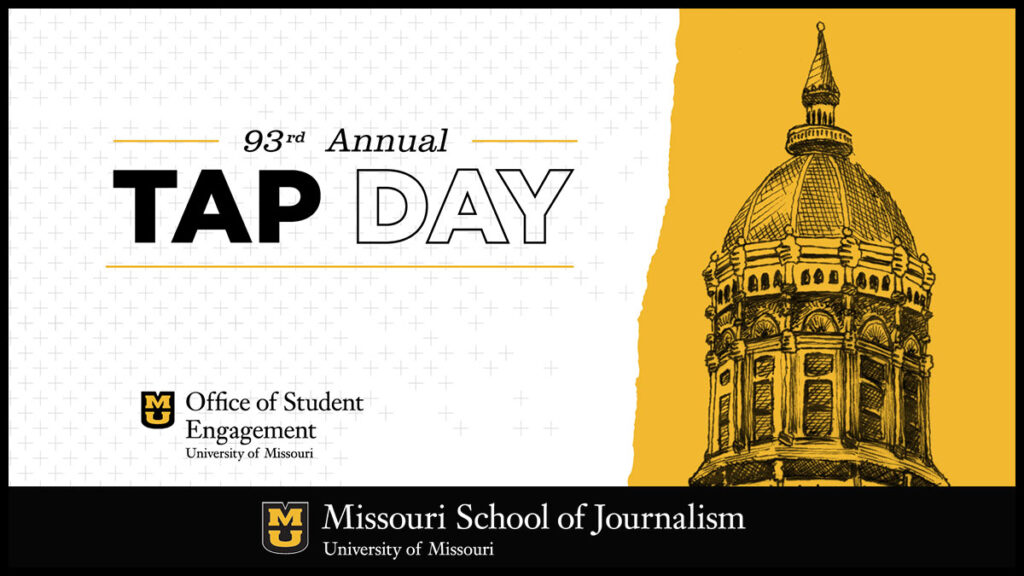 Selection is based on scholarship, leadership and service.
Columbia, Mo. (May 12, 2020) — Eleven Missouri School of Journalism students and one professor were tapped into four secret honorary societies during the 93rd annual Tap Day. Due to COVID-19, this year's reveals were done via videos.
Tap Day is an annual spring event that recognizes students who excel in academics and campus involvement as inductees into the University of Missouri's secret honorary societies. Many of the societies also induct staff and faculty as honorary members to recognize the positive impact they have on students. The tradition dates back to 1927, when the first Tap Day was conducted on Francis Quadrangle by the columns.
MU's six societies are LSV, Mortar Board, Mystical Seven, Omicron Delta Kappa, QEBH and the Rollins Society.
Members of the societies choose new "taps" based on academic performance, extracurricular activities, scholarship, leadership and service. The new members' identities were secret until the inductees were unveiled on social media on May 8.
Those honored from the Journalism School are the following:
LSV Society
LSV was formed in 1908 by a group of women students concerned about the status of women on campus and in society as a whole. Each year the organization recognizes the most outstanding upper-class students who, through their individual service to the University and the community, continually strive to promote and improve the status of women.
J.E. Heo, journalism, South Korea
Kaleigh Feldkamp, journalism, South Bend, Ind.
Dr. Cynthia Frisby, professor, strategic communication
Mortar Board
Mortar Board provides opportunities for continued leadership development and encourages lifelong contributions to the global community, while promoting service to the University.
Ashley Dorf, strategic communication, Dana Point, Calif.
Hope Johnson, strategic communication, Taylorville, Ill.
Christina Long, magazine journalism, Fayetteville, Ark.
Alice Yu, strategic communication, Columbia, Mo.
Omicron Delta Kappa
Omicron Delta Kappa (ODK), a national leadership honor society, seeks to recognize high achievers in collegiate activities, to bring together a representative group of students and to bring together the faculty and student body on a basis of mutual interest and understanding.
Shade Bullock, broadcast journalism, Lake Ozark, Mo.
Katherine Sticklen, strategic communication, Joplin, Mo.
Abigail Struttman, strategic communication, Union, Mo.
QEBH
QEBH, founded in 1898, is the oldest recognized secret honor society at the University. Its founder desired to unite exemplary campus citizens based on their selfless dedication to the University and excellence in personal character.
Paola Rodriguez, journalism, St. Louis, Mo.
Lee Russell, sports journalism, St. Louis, Mo.
Updated: November 12, 2020
Related Stories
Expand All
Collapse All
---