15 Journalism Students, 1 Professor Inducted into Secret Societies during Annual Tap Day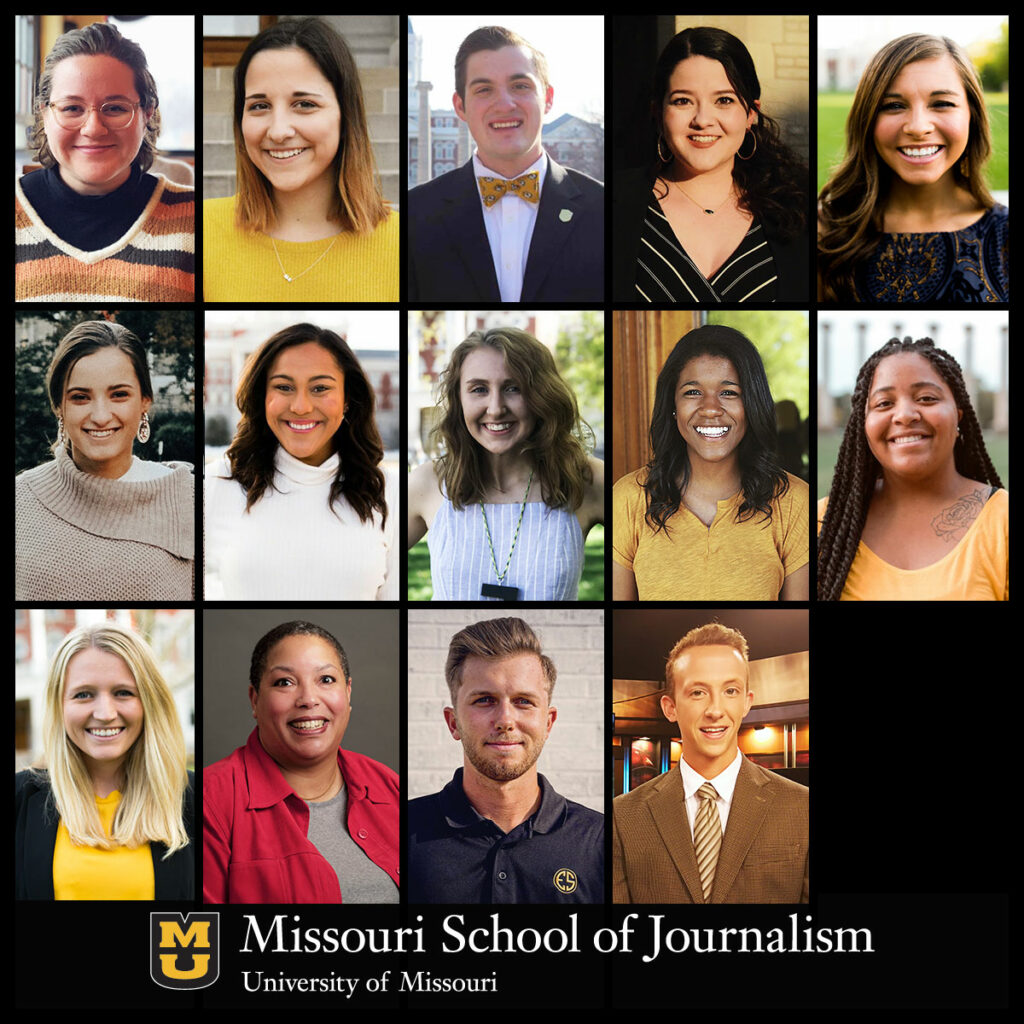 Members of Mizzou's secret societies are "tapped" (chosen) based on academic performance, extracurricular activities, scholarship, leadership and service. Top row, left to right: Emily Aiken, Megan Brenneke, Mitchell Davis, Shoshana Dubnow, Maddie Dunkman. Middle row: Holly Enowski, Simone Esters, Mel Frieders, Catherine Hoffman, Jasmine-Kay Johnson. Bottom row: Blythe Nebeker, Jeannette Porter, John Pottebaum, Matt Schmittdiel. Not pictured: Ayesha Vishnani (LSV Society) and Taylar Warren (QEBH).
New Members Recognized for Their Service, Leadership and Commitment to the University of Missouri Community
Columbia, Mo. (April 29, 2019) — Fifteen Missouri School of Journalism students and one faculty member were tapped into five secret honorary societies during the 92nd annual Tap Day on the University of Missouri campus.
Tap Day is an annual spring event that recognizes students who excel in academics and campus involvement as inductees into the University of Missouri's secret honorary societies. Many of the societies also induct staff and faculty as honorary members to recognize the positive impact they have on students. The tradition dates back to 1927, when the first Tap Day was conducted on Francis Quadrangle by the columns.
MU's six societies are LSV, Mortar Board, Mystical Seven, Omicron Delta Kappa, QEBH and the Rollins Society.
Members of the societies choose new "taps" based on academic performance, extracurricular activities, scholarship, leadership and service. The new members' identities were secret until the ceremony on April 19.
Those honored from the Journalism School are the following:
LSV Society
LSV was formed in 1908 by a group of women students concerned about the status of women on the University campus and in society as a whole. Each year the organization recognizes the most outstanding upper-class students who, through their individual service to the University and the community, continually strive to promote and improve the status of women.
Emily Aiken, journalism student from St. Louis, Missouri
Ayesha Vishnani, journalism student from Overland Park, Kansas
Mortar Board
Mortar Board provides opportunities for continued leadership development and encourages lifelong contributions to the global community, while promoting service to the University.
Jasmine-Kay Johnson, magazine publishing and management student from Alton, Illinois
Mystical Seven
Mystical Seven honors seven men and women of the University who have displayed selfless leadership and exemplary character. Founded in 1907, it is the second-oldest recognized secret honorary society at the University.
Mel Frieders, journalism student from Yorkville, Illinois
Omicron Delta Kappa
Omicron Delta Kappa (ODK), a national leadership honor society, seeks to recognize high achievers in collegiate activities, to bring together a representative group of students and to bring together the faculty and student body on a basis of mutual interest and understanding.
Megan Brenneke, strategic communication student from Lee's Summit, Missouri
Mitchell Davis, journalism student from Plano, Texas
Shoshana Dubnow, journalism student from Scottsdale, Arizona
Maddie Dunkman, strategic communication student from Holt's Summit, Missouri
Holly Enowski, science and agriculture journalism student from Russellville, Missouri
Simone Esters, journalism student from Hermitage, Pennsylvania
Blythe Nebeker, convergence international journalism student from Phoenix, Arizona
Matt Schmittdiel, broadcast journalism student from Chesterfield, Missouri
QEBH
QEBH, founded in 1898, is the oldest recognized secret honor society at the University. Its founder desired to unite exemplary campus citizens based on their selfless dedication to the University and excellence in personal character.
Catherine Hoffman, documentary journalism student from Dallas, Texas
Jeannette Porter, assistant professor, strategic communication
John Pottebaum, broadcast journalism student from Saint Albans, Missouri
Taylar Warren, strategic communication student from Atlanta, Georgia
Updated: November 9, 2020
Related Stories
Expand All
Collapse All
---