Jeannette Porter supporting marginalized voices in scholarly writing at Missouri School of Journalism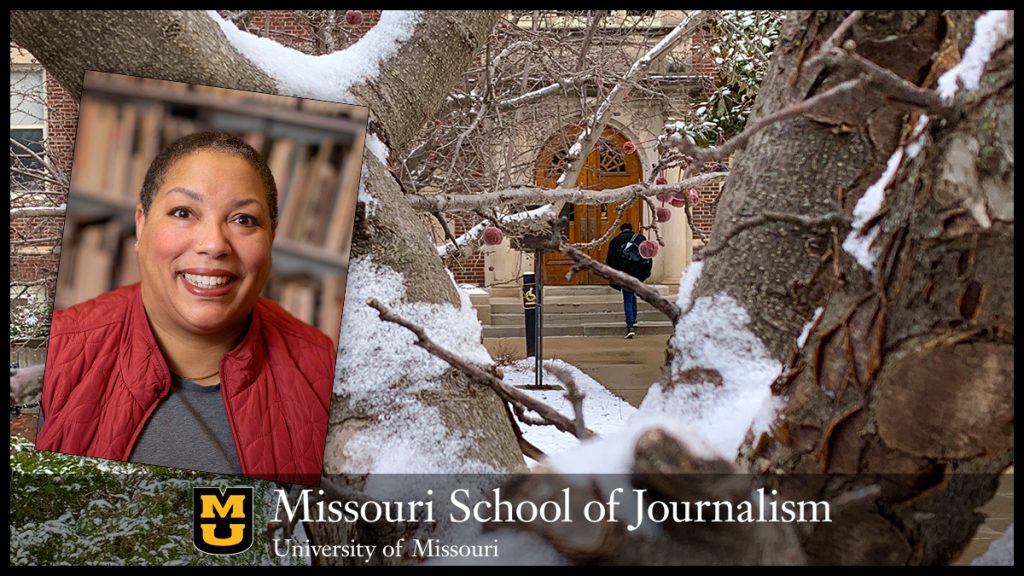 Porter's research delves into how the Black community communicates about mental health, but she is also working to support the mental health and well-being of her fellow scholars
Columbia, Mo. (Feb. 16, 2022) — Along with several of her colleagues at the Missouri School of Journalism, Jeannette Porter will be attending the International Communication Association's 2022 conference this May in Paris, France. But rather than presenting the results of a study, she will be participating in a panel discussion about a passion project: peer support groups for diverse scholars.
The project began when Porter got together with a handful of other scholars from around the country to form a virtual "writing accountability group (WAG)," in which members support each others' writing efforts through structured online meet-ups and writing sessions. Porter and her colleagues did not invent the idea of a WAG, but they quickly realized this model of writing support could work especially well if used to support scholarly writing from marginalized voices.
"We realized the fellowship of our group has been as important as the more logistical concerns of deadlines and responsibilities," said Porter, an assistant professor at the School of Journalism. "We thought we might be onto something."
Meeting by Zoom every Monday, the members share their challenges and offer a sympathetic ear before bearing down for a period of writing, a process that Porter has found helpful not only in stimulating her writing, but in reminding her that her work — which is fraught with sensitive topics — is worth the effort.
Porter's work examines how Black communities communicate about mental health, a topic she has found intersects with Black community churches, since her ongoing research builds on earlier work suggesting pastors are often sought out for mental health advice over professional therapists or psychiatrists. This combination of health communication, sociology, and religion makes for a potent mix of audiences who might not always want to hear what she has to say, which makes a solid peer support system all the more important for her work.
"People who write out of marginalized identities are aware that their viewpoints are often not heard or even actively discounted or silenced," Porter said. "I have felt extremely reluctant — frightened is not too strong a word — to put my thoughts on paper, knowing that I wasn't sure if the audience for my work was out there. Through working with these other scholars, I have a support system that goes beyond someone reading paragraphs and suggesting sources."
'That's why I do what I do'
Porter's focus on mental health is more than an academic interest. Her father lived with undiagnosed bipolar disorder, a fact that taught her early on about the challenges created when someone does not seek — or cannot access — the mental health treatment they need. And when she grew up and moved away from home, she realized the problem was much bigger than her own family.
"I grew up in New York City, and I took it for granted that mental health help was widely available the way it was there," Porter said. "Then I moved to rural Virginia and found out that was not the case. Not only is there unmet need, but there is really a lot of unmet need in the Black community and in all communities that identify as marginalized."
While she notes that one aspect of the issue is a lack of cultural sensitivity on the part of therapists and other health professionals, her experiences with her family and in the wider Black community inspired her to focus her studies on the origins of the community's hesitancy to seek professional mental health help — an approach she likens to the "demand" side of the supply and demand dynamic.
"Historically, the response in the Black community to mental health challenges has been, 'you need to pray on that,'" she said. "And the research shows we're up to fifty percent less likely to seek mental health help even when we have the same levels of insurance. But we do talk to our pastors about it, so it's important to understand that relationship, that nexus of influence, if we're going to tackle this issue of unmet need."
For Porter, this area of study has implications far beyond the realm of health communication. With research indicating that inadequate mental health treatment can lead to incarceration, she believes improving access and use of treatment could have a wide range of benefits, including easing pressure on the prison system and making it harder for marginalized people to fall through the cracks of society.
"How many people are rotting in jail, or locked into a special education program that isn't right for them, or frankly just suffering, because they aren't getting the treatment they need?" she said. "That's why I do what I do."
Updated: February 16, 2022
Related Stories
Expand All
Collapse All
---