Four Journalism Students Selected for Mizzou '39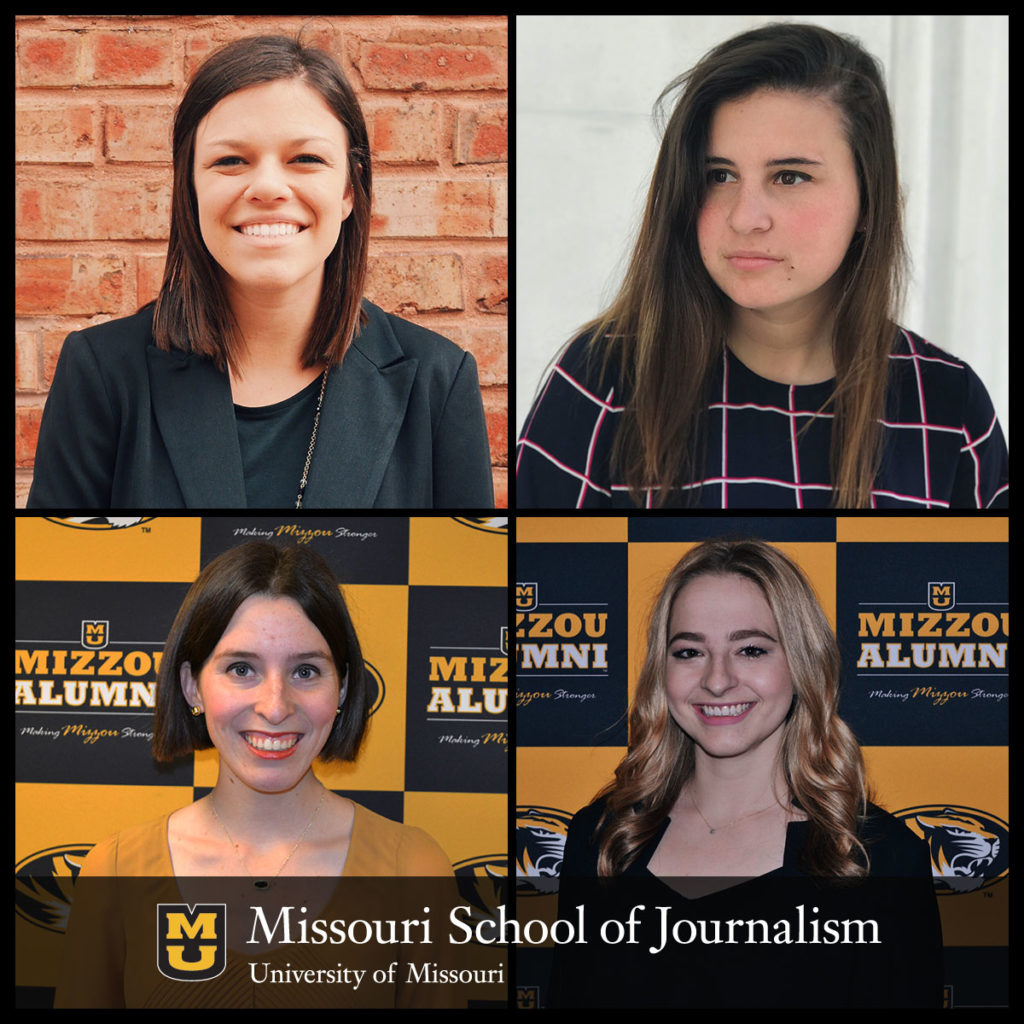 From top-left: Missouri Journalism seniors Brittney Frazier, Grace Gabel, Emily Russell and Lily Zacharias are among those named for this year's Mizzou '39 award.
The Award Recognizes Seniors for Their Leadership, Service and Academic Achievements
By Yue Tang
Columbia, Mo. (March 6, 2017) — Four students studying strategic communication at the Missouri School of Journalism are among the 39 selected for Mizzou '39. The award, given by the Mizzou Alumni Association Student Board, recognizes 39 outstanding seniors across all majors for their leadership, service and academic achievement throughout their time at the University of Missouri.
The award is given in spirit of the service cornerstone on which MU was founded in 1839. Mizzou 39 recipients name a MU faculty or staff mentor to recognize at the awards ceremony. The students and their mentors will be recognized at a banquet this spring.
The Missouri School of Journalism recipients and their mentors are:
Brittney Frazier
Grace Gabel
From: Atlanta, Georgia
Major: Journalism (Strategic Communication)
Activities and Honors: Tiger Pantry, Mizzou Alternative Breaks, Summer Welcome
Mentor: Farouk Aregbe, assistant director, Academic Retention Services
Emily Russell
From: Bloomington, Illinois
Major: Journalism (Strategic Communication)
Activities and Honors: Missouri School of Journalism Ambassadors, Omicron Delta Kappa, Alpha Phi Omega, Director of Ambassadors, Mizzou Office of Leadership Development, St. Thomas More Newman Center
Mentor: Sherri Helm, senior program/project support specialist, MU Office of Economic Development
Lily Zacharias
From: Wheaton, Illinois
Major: Journalism (Strategic Communication)
Activities and Honors: Tour Team Leader, Kappa Alpha Theta, Homecoming Top 30 Candidate, Panhellenic Counselor, Caring for Columbia Steering Committee, Office of Admissions student worker
Mentor: Judd Slivka, assistant professor, Convergence Journalism
Updated: October 13, 2020
Related Stories
Expand All
Collapse All
---