Six Journalism seniors selected for Mizzou '39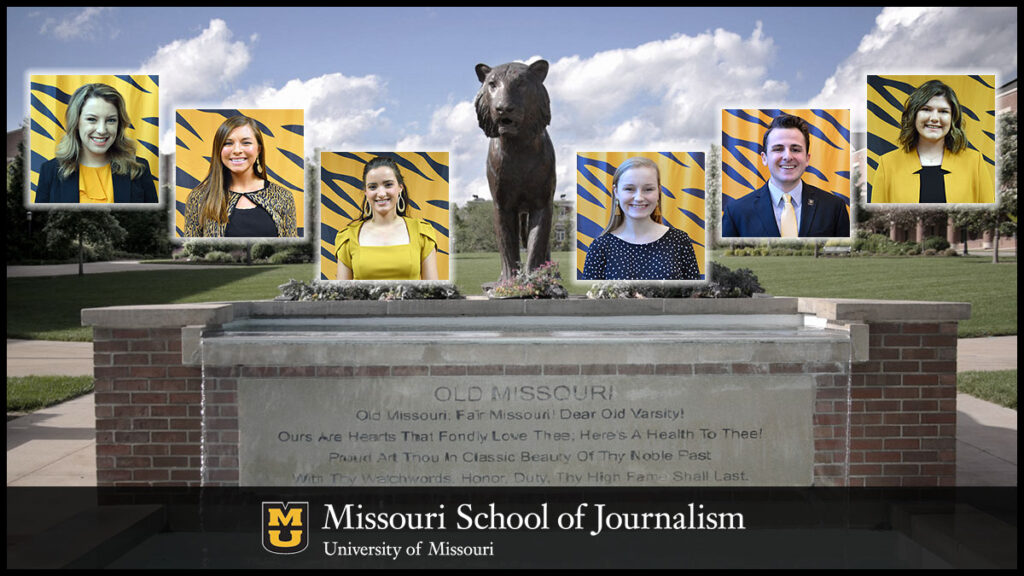 Seniors recognized for leadership, service and academic achievements.
Columbia, Mo. (March 4, 2020) — Six Missouri School of Journalism seniors are among the 39 selected for Mizzou '39. The annual award, given by the Mizzou Alumni Association Student Board, recognizes 39 outstanding seniors across all majors for their leadership, service and academic achievement throughout their time at the University of Missouri. The new members were announced during an evening ceremony March 3 at Traditions Plaza on the MU campus.
The Mizzou Alumni Association Student Board also presented the Mizzou 18 Award, which honors 18 University of Missouri graduate and professional students in the last year of their degree eligibility.  Chosen for their world-class research, collaboration with faculty and staff, and their demonstrated leadership with undergraduate students, the honorees represent a variety of majors, activities and organizations from across campus. Recent alumna and current College of Education graduate student Huong Truong, BJ '18, was selected for this honor.
The awards are given in spirit of the service cornerstone on which MU was founded in 1839. Both Mizzou '39 and Mizzou 18 recipients name a MU faculty or staff mentor to recognize at the awards ceremony. The students and their mentors will be recognized at a banquet this spring.
Mizzou '39 journalism recipients are: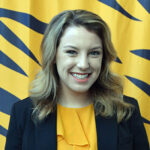 Shade Bullock
Major: Broadcast Journalism
Hometown: Lake of the Ozarks, Mo.
Activities/Honors: Battalion Commander of Mizzou Army ROTC; Recognized as Distinguished Military Graduate; Traveled to Mongolia with the Cadet Coalition Warfighter Program; Selected as a Srebrenica Summer University Scholarship Recipient; J-School Ambassador; reporter and anchor at KOMU 8 News; Alpha Chi Omega Sorority; 2018 University of Missouri Homecoming Steering Committee;
Captain of the Mizzou Army Ten-Miler Team; Mizzou Alternative Breaks
Mentor: Gary Kerr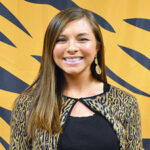 Madeline Dunkmann
Major: Strategic Communication
Hometown: Jefferson City, Mo.
Activities/Honors: Mizzou Tour Team; 2019 Homecoming Steering Committee; Chi Omega; MOJO Ad; Camp Kesem; Omicron Delta Kappa Honors Society
Mentor: LeAnn Stroupe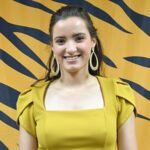 Holly Enowski
Major: Science and Agricultural Journalism
Hometown: Eldon, Mo.
Activities/Honors: Tiger Pantry Executive Board; Deaton Scholars Program Leader; Omicron Delta Kappa Executive Board; Distinguished 14 Freshman Co-Coordinator; Candidate for Miss Missouri
Mentor: Brady Deaton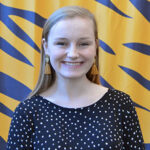 Hope Johnson
Major: Strategic Communication
Hometown: Taylorville, Ill.
Activities/Honors: Creative Director, Vox Magazine; President, Mizzou Magazine Club; Panhellenic Counselor, Mizzou Panhellenic Association; 2020 Kinder Scholar; Member and former online media director of Kappa Alpha Theta; Former Art Director at MOJO Ad; Recipient of an American Advertising Federation award for publication design; Graphic Designer, Mizzou Student Affairs-Marketing; Writing Tutor, Mizzou Student Success Center; Design Teaching Assistant, J-School; Showcase Participant, Undergraduate Studies Visual Arts and Design Showcase; Honors College Outstanding Junior (2019); Member of American Advertising Federation
Mentor: Aaron Harms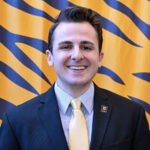 Nicholas Kelly
Major: Journalism
Hometown: Lakeville, Minn.
Activities/Honors: APSE at Mizzou president; KOMU 8 sports anchor; Columbia Missourian sports reporter; AWSM member; ONA member; Dean's list Fall 2016 to present
Mentor: David Kurpius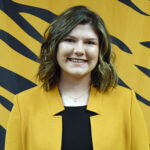 Sadie Lea
Major: Journalism
Hometown: Benton, Ark.
Activities/Honors: Walter Williams Scholar; ASH Scholar; CIRCA Scholar; Peer Learning Assistant for the Walter Williams FIG; Teaching Assistant for SSC 1150; Chapter President of Sigma Kappa Sorority; Tiger Pantry Volunteer; Published in the Columbia Missourian and Vox Magazine; Summer 2019 Journalism Ambassador; MU Connect Student Worker
Mentor: Tina Balser
Mizzou 18 recipient: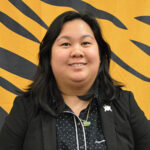 Huong Truong, BJ '18
Major: MA, Education
Hometown: Oklahoma City, Okla.
Activities/Honors: Alpha Phi Gamma National Sorority, Inc.; Asian American Association; Greek Week; Greek Allies; Safe Space Training; Missouri Student Unions Unsung Hero
Mentor: Jonathan Rummel
Updated: November 11, 2020
Related Stories
Expand All
Collapse All
---