12 Journalism Seniors Inducted into Elite Mizzou '39
Only 39 of the More Than 3,000 Graduating Seniors Earn This Distinction
By Lauren Walsh
Master's Student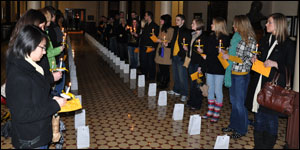 Columbia, Mo. (March 2, 2010) — The Mizzou Alumni Association Student Board (AASB) named 12 Missouri School of Journalism seniors to the 2010 class of Mizzou '39.
Mizzou '39 honors outstanding seniors for their academic achievements, leadership and service. Created by the AASB in 2005, the name pays tribute to the spirit of service modeled by the families that supported the founding of the University in 1839. Each year, only 39 of the more than 3,000 graduating seniors at the University of Missouri earn this distinction.
Mizzou '39 honorees must be seniors with a cumulative GPA of 3.0 or higher. A committee of alumni, faculty and staff review the applications and select the winners.
"It's great to have so many journalism students honored," said Brian Brooks, associate dean for undergraduate studies at the School. "This honor emphasizes what we already know, that our students are among the best and brightest in the country."
Top row, from left: Whitney Bodenstab, Amy Brachmann, Liz Braun, Courtney Cebula, Shane Hoffman, Max Hyman. Second row: Stefanie Kienstra, Bradley Minkow, Dolores Obregon, Brian Pellot, Taylor Rausch, Bonnie Thomas.
---
The recipients were recognized at recent events including a special Mizzou '39 award banquet and reception at the Reynolds Alumni Center, a ceremony in Jesse Hall and recognition during halftime at the MU vs. Colorado men's basketball game.
The 12 Missouri Journalism seniors honored this year were:
Updated: May 7, 2020
Related Stories
Expand All
Collapse All
---