Missouri Journalism Senior Sydnee Stottlemyre Wins Miss Missouri USA
Pageant Earnings Pay for College Expenses; Plans to Attend Law School
By Kiara Ealy
Columbia, Mo. (Oct. 9, 2015) — Changing the world and a pageant lifestyle may not seem like a likely combination, but for Sydnee Stottlemyre, perseverance in both has paid off. Stottlemyre, a strategic communication student at the Missouri School of Journalism, was crowned Miss Missouri USA 2016 last week in St. Charles, Missouri.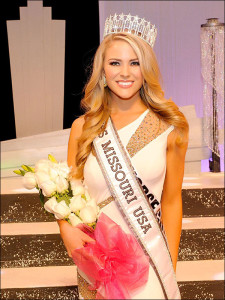 Stottlemyre is from Chesterfield, Missouri, and a graduate of Lafayette High School. She is a member of Kappa Kappa Gamma women's fraternity and a former Total Person Program tutor for the University of Missouri Athletics Department. Stottlemyre is the former national spokesperson for MU's Research Center of Human-Animal Interaction and enjoys volunteering at Cedar Creek Therapeutic Riding Center.
Stottlemyre started participating in pageants at age 7 and saved the earnings to fund her college career before she completed high school.
"I was lucky enough to pay for two semesters of college here at MU through my prize package with Miss Missouri's Outstanding Teen combined with the national prize package of placing 4th runner-up at Miss America's Outstanding Teen," Stottlemyre said.
In fact, Stottlemyre takes her education seriously enough that she asked one of her professors, Holly Higginbotham, if she could take an exam earlier than the rest of the class to compete in the Miss Missouri USA pageant. Stottlemyre said her professors have been amazing to work with.
"I'm doing my best to hold myself accountable to my schoolwork, because I know that being Miss Missouri USA only lasts one year," Stottlemyre said. "I still need a degree to accomplish my career goals. I hope I can return my gratitude to them by working diligently to stay on top of my course load."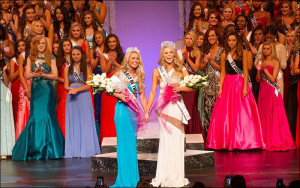 Upon completion of her strategic communication studies, Stottlemyre plans on entering law school. Communications law Professor Sandy Davidson inspired Stottlemyre to further her education and goals, she said.
Being crowned Miss Missouri USA means Stottlemyre will receive even more opportunity to further her education. She credits and applauds pageant organizations that seek to educate and empower women.
"I hope I can use my position as Miss Missouri USA to encourage people around me to never settle when it comes to their ambitions – you don't have to stop at good. You can go for great, too," Stottlemyre said.
Updated: September 10, 2020
Related Stories
Expand All
Collapse All
---