Magazine Journalism Junior Named a Harry S. Truman Foundation Finalist
Columbia, Mo. (April 27 2009) — Taylor Rausch, a junior who is studying magazine journalism at the Missouri School of Journalism, recently earned the distinction of being selected as a 2009 Harry S. Truman Scholarship Foundation finalist.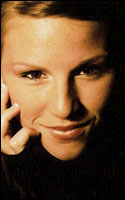 The foundation funds an annual scholarship for 65 students across the nation who plan to pursue a career in public policy and is one of the nation's most competitive. Out of 2,000 applicants across the nation, only 200 were selected as finalists. Recipients must be U.S. citizens, have outstanding leadership potential and communication skills, be in the top quarter of their class, and be committed to careers in government or the not-for-profit sector.
Rausch, who is also a history major at the University of Missouri, spent the summer of 2008 in Washington, D.C., working for the Center for Public Integrity. It was there that Rausch realized she'd want to pursue law school to study media law.
At MU Rausch serves as chapter president for the Society of Professional Journalists and is Kappa Alpha Theta's vice president of public relations. She is also the co-director of GAMMA, Greeks Advocating the Mature Management of Alcohol.
Rausch began to prepare for the extensive application process in September 2008. After learning of her finalist status, she was interviewed by a judge, a university president, a general counsel for the department of public safety in Ohio, the executive secretary of the Truman Foundation, and a former city council representative for Cincinnati.
Each student's application had a theme and Rausch's focused on the reform of media law in the Internet age. She discussed rape shield laws, general journalism shield laws and whether the privacy of Elliot Spitzer was invaded.
"My interview was largely a conversation about journalism ethics," she said. "They really grabbed onto the fact that I am a journalism major and that I did work with the Society of Professional Journalists as a student representative."
Throughout the interview process, Rausch was pleased to meet fellow students who had worked as student body presidents, lobbied in Washington, founded organizations and held prestigious internships. All were dedicated to policy change and more than equipped to win the scholarship.
"The foundation continues to stand by their statement that if they had more money, each finalist would receive a scholarship," Rausch said.
Soon after learning about the outcome of the Truman scholarship, the Gilder Lehrman Institute of American History contacted Rausch. She is one of just 15 students who will spend the summer in New York, attending seminars and engaging in projects with historians.
Updated: May 1, 2020
Related Stories
Expand All
Collapse All
---