'Career Explorations in Journalism' Course Receives $40,000 Redesign Grant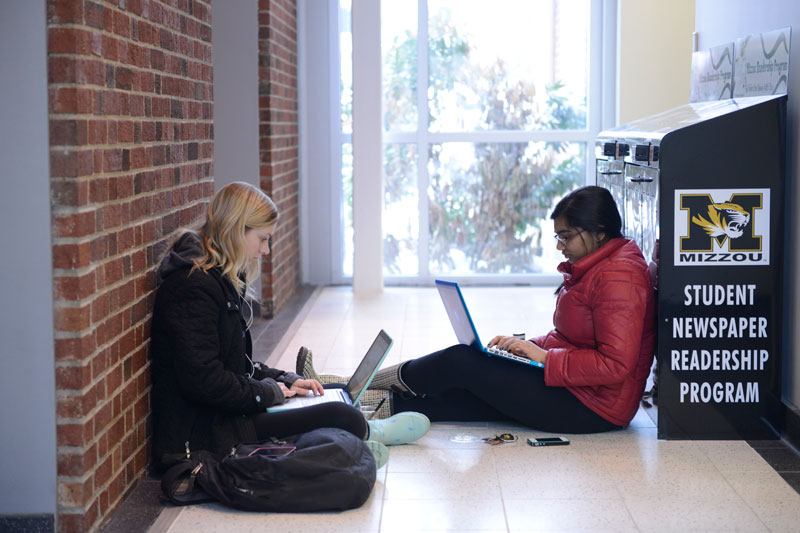 Students' Strengths Will Be Mapped with Interest Areas
By Gwen Girsdansky
Master's Student
Columbia, Mo. (April 22, 2013) — The Mizzou Redesign Initiative awarded money to redesign seven undergraduate classes with high enrollments, including the Missouri School of Journalism's eight-week "Career Explorations in Journalism."
The course helps first-year students discover the array of professional possibilities within journalism and strategic communication. It aims to help students decide which interest areas are right for them.
The redesign is part of the School's continual efforts to improve its curriculum. The Fundamentals of Multimedia Journalism course, which helps journalism students learn the basics and ethics of cross-platform, multimedia storytelling, was updated for the 2012-13 academic year.
"What we're hoping to do with the redesign is to employ a couple different or added strategies to help students better identify their own personal strengths and to show how those map onto different journalism and strategic communication careers," said Associate Professor Stephanie Craft, who is a member of the redesign team.
Others involved in the initiative include Fritz Cropp and Debra Mason, Missouri Journalism professors; Hui-Hsien Tsai, the School's instructional designer; and Garet Marling and Marcie McGuire, e-learning specialists at ET@MO.
Craft said some of the $40,000 award will fund new online modules, so students can explore their interests and how these might be pursued within the journalism school.
For instance, students inclined toward visual communication might focus on graphic design careers at news media, advertising agencies or websites.
"There isn't just one place where you can do that in the curriculum," Craft said. "So students have a better view of that career-wise."
The modules may include videos of seniors talking about their experiences with MOJO Ad, the Columbia Missourian, KBIA-FM, KOMU-TV or several new online nonprofit news sites. Students will be able to see whom they identify most with and which emphasis areas pique their interest. The videos could help students make more informed decisions about their courses.
To supplement the online modules, Craft said the team, working with MU Career Services, will include self-assessments to help students learn their personal strengths. For example, some students might rate highly in the area of leadership while others might be high in the area of creativity or investigative skills.
"It is the kind of course that plays an advising role," Craft says. "But beyond that, there's some real academic content."
The online modules will supplement class discussions with current professors Mason and Cropp, as well as guest speakers. Students will be able to ask more questions and engage in an enhanced dialogue.
Craft says she hopes to have a pilot version of the class ready by the second half of fall 2013.
Updated: July 15, 2020
Related Stories
Expand All
Collapse All
---