New Curriculum Expands Study Options for Incoming Undergraduates at the Missouri School of Journalism
25 Interest Areas Are Offered
Columbia, Mo. (May 26, 2010) — Incoming undergraduates in the Missouri School of Journalism will have a new way of selecting their majors effective with the fall 2010 semester.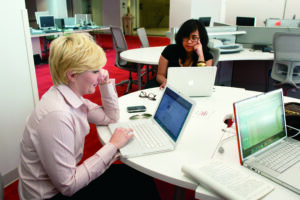 Journalism students will now choose from an array of interest areas designed to build expertise in areas in which journalism and strategic communication majors typically find jobs.
"We are really excited to be able to offer our students 25 degree options rather than six," said Brian S. Brooks, associate dean for undergraduate studies. "Today's media marketplace is much more complex and much more diverse, and our students need more options to prepare well. This gives them those options."
The outline of each interest area includes a brief overview, required courses, suggested journalism electives and relevant non-journalism courses. Twenty-five interest areas will initially be available in areas such as design for magazine, news and multimedia; writing for news and magazines; producing for radio and television and multimedia; strategic communication areas such as account management, interactive, public relations and copywriting; and others. One option allows students to individually design a course of study if none of the existing interest areas meet their needs. An explanation of the entire undergraduate curriculum is available online, and explanations of the interest areas are linked at left.
The expanded number of options will allow students to take better advantage of the courses, hands-on opportunities in real-media labs and other resources available in their particular interest areas as well as create interdisciplinary and cross-platform learning opportunities tailored to their career goals.
"We're also adding a new required course in multimedia at the sophomore level," Brooks said. "The faculty believes that all journalism and strategic communication students need to master those skills."
A total of 123 credit hours are required for the bachelor of journalism degree. Of this number, 65 credits are liberal arts and science courses; 43, journalism; and 15, other non-journalism credits. In a typical four-year plan, students take 12 credits in journalism during their freshman and sophomore years before beginning specialized study in the junior and senior years. They complete an additional 31 credits in the last two years.
The change to interest areas does not affect current students, who will continue with their existing course of study.
Updated: May 12, 2020
Related Stories
Expand All
Collapse All
---