School Creates New "Media Convergence" Sequence
Columbia, Mo. (Feb. 19, 2004) — Plans to offer a new "media convergence" sequence to Missouri School of Journalism undergraduate students beginning in the fall 2005 semester are under way. Media convergence is defined as some form of cross-media cooperation, usually involving broadcast stations, print outlets and Internet sites.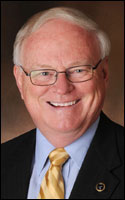 "Our faculty recognizes that today's convergence of media operations requires some graduates to be skilled in more than one discipline," said Brian S. Brooks, associate dean for undergraduate studies and administration.
The School's faculty is moving quickly to approve the new courses that will be needed in the emphasis area so it can submit the program for approval to the Missouri Coordinating Board for Higher Education (CBHE). The School awards only one undergraduate degree, bachelor of journalism, which students in the new emphasis area would receive.
Internally, the School's faculty, staff and students refer to emphasis areas as sequences. The existing sequences are advertising, broadcast news, news-editorial, magazine and photojournalism.
In addition, the School will offer graduate work in media convergence under its existing master of arts degree program. Models for students who wish to focus on convergence are being considered for faculty approval this semester.
The faculty also consider the convergence sequence as the natural home of training in Internet journalism, an area the school pioneered during the 1990s. The School operates a website, the Columbia Missourian Online which traces its roots to a research project involving news delivery to Columbia Public Schools started in 1992. As a result, the Missourian website arguably is the oldest newspaper site on the Internet.
For a variety of reasons it has been difficult for a print journalist to take television courses or for a broadcast student to take advanced writing courses.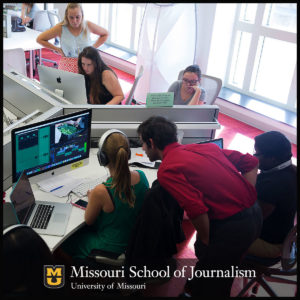 "The new sequence will give us a place to train journalists to do just that," Brooks said.
By early 2007, convergence operations will be housed in a new facility that is part of the recently announced Donald W. Reynolds Journalism Institute. The Institute will be created with a $31 million gift from the Donald W. Reynolds Foundation and includes space for a media convergence news facility, a technology demonstration center and research lab. Faculty offices for those teaching in the new emphasis area also will be located there.
The institute offices will be housed in the building currently known as the Sociology Building, just south of the School of Journalism's Walter Williams Hall. The two buildings will be connected with a new building, and the convergence facility will be housed in the ground floor of that building.
Until that is built, the sequence will be housed in existing facilities and will be launched as soon as it wins approval of the CBHE. Graduates of the new media convergence sequence will be welcomed by prospective employers. Brooks said a comment by an editor at the Tampa (Fla.) Tribune, WFLA and Tampa Bay Online, all owned by Media General, is typical of those expressing a desire for cross-trained personnel.
"She told us, 'I'm looking for someone who can write a Super Bowl story for the newspaper but also do a standup piece on camera for the television station'," Brooks said.
The new media convergence sequence will be the first new emphasis area to be created at the School in more than 50 years.
Updated: March 12, 2020
Related Stories
Expand All
Collapse All
---