Convergence Journalism Student Translates U.S. News Stories from English to Korean
Tae In Park Hopes to Increase the Amount of World News Available to His Country's People
Columbia, Mo. (Feb. 20, 2012) — Convergence journalism student Tae In Park was featured recently in the Korea Economic Daily, the second largest economy newspaper in South Korea, for his work in translating stories from major U.S. media from English into the Korean language.
Park, who is from South Korea, has translated more than 100 articles from the New York Times, NPR, BBC, CNN and other publications on his blog since beginning the project in May 2011.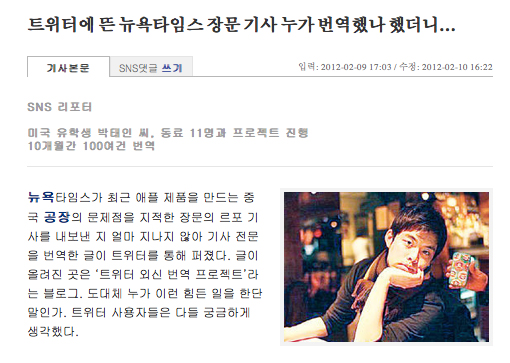 And he's recruited 10 others to help with the project. All of them met and interact through social media outlets. The translation project is a volunteer effort. No one is paid or receives any sort of compensation.
Photographs and videos are often included in his entries such as was done in recent example, "In China, Human Costs Are Built Into an iPad."
Park initiated his project when he realized that the amount of world news available to the average South Korean was very limited because of the language barrier.
"The world is in a state of transition, and countries act as cogs in a larger machine," Park said. "This project ends up being a kind of payback to society for the opportunities I've had."
Park said his Missouri School of Journalism professors encourage him to blog in his classes, and he created his during his study abroad program in Brussels. His online journalism course professor, Clyde Bentley, taught him about the importance of interacting with online users and trying to meet their needs.
Park plans to continue the project for as long as he is able. After graduation, he hopes to serve as a translator in the Republic of Korea Air Force. His long-term goal is to be an international journalist who focuses on the information needs of the South Korean people.
Updated: June 5, 2020
Related Stories
Expand All
Collapse All
---