3 Convergence Students Attend Women's Hackathon on Immersive Journalism
Sarah Darby's Team Wins an Honorable Mention for a Virtual Reality Wire Service Concept
Columbia, Mo. (Oct. 21, 2015) — Three convergence journalism students attended the Women's Hackathon on Immersive Journalism Oct. 9-11 at the University of Southern California's Annenberg School for Communication and Journalism.
With support from the Reynolds Journalism Institute, Sarah Darby, Micheala Sosby and Daniela Vidal traveled to Los Angeles to learn about virtual reality storytelling, tech startups and marketing. All are students at the Missouri School of Journalism.
"Seeing so many women come together to explore the frontier of immersive journalism was an eye-opening experience for me," Vidal said. "There's a world of opportunity I really wasn't aware of until this experience."
More than 60 women representing 20 schools formed teams to think critically about applications for virtual reality and build the framework for a tech startup. Teams then pitched their ideas to judges from Facebook, BuzzFeed, Specular Theory, the International Women's Media Foundation and USC Annenberg.
Darby's team received an honorable mention for "VRacity," a concept for a virtual reality wire service.
"I have participated in entrepreneurship and technology events in the past, but I have always been a minority in the room as a woman," Darby said. "There's something different about being on an all-female team, as I was at Hack the Gender Gap. The weekend encouraged me to continue to pursue my dream career as an entrepreneur."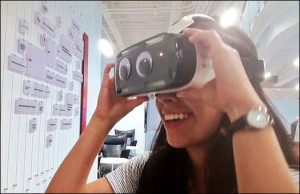 Prominent women in tech and business shared their expertise and experiences throughout the weekend, including Nonny de la Peña, CEO of Emblematic Group; Amara Aguilar, associate professor at USC Annenberg; Kristin Falk, managing director of marketing innovation at Charles Schwab; Jennifer de la Fuente of Rosebud Designs; Carrie Southworth, co-founder of TwigTale; Alex Schaffert, managing director of digital strategy and innovation at KPCC; Sara Christensen, managing director of external relations at Raptor Group; Willow Bay, director of the USC Annenberg School for Journalism and Communication; and Potsie Rivera, a UI UX designer.
"The women I met at Hack the Gender Gap were inspiring and forward-thinking," Sosby said, "and I'm so fortunate to have experienced this incredible conference with two classmates of mine whom I really admire. I'm on the lookout for more hackathons."
Updated: September 10, 2020
Related Stories
Expand All
Collapse All
---