Graduate Student Wins a $3,000 Scripps Howard Foundation Scholarship
Virtual Reality and 360 Journalism Provide Framework for Summer Project at The Associated Press
Columbia, Mo. (May 8, 2017) — A Missouri School of Journalism graduate student will work in partnership with The Associated Press' interactive unit in New York this summer to create a set of best practices and an ethical code for journalists working in immersive 360 and virtual reality environments.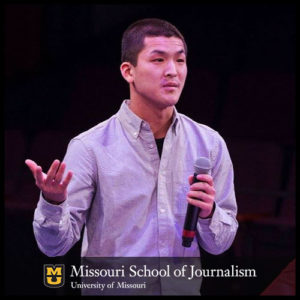 Master's student Taylor Nakagawa was selected for this opportunity as the winner of a 2017 Scripps Howard Foundation scholarship. He will join a multidisciplinary team of journalists, media executives and academics from The Associated Press, NBC News Digital and the Donald W. Reynolds Journalism Institute.
Nakagawa is a graduate student studying media strategy and the ethical implications of VR journalism.
The Scripps scholarship recipients receive a $3,000 stipend and $500 follow-up scholarship. These monies enable students to take unpaid or low-paying professional internships at news organizations they might not otherwise have been able to participate in.
The Scripps Howard Foundation awards the annual scholarship in consultation with the leadership of the E.W. Scripps Company and its operating units.
Nakagawa has spent time working in many of the School's hands-on media outlets, including the Columbia Missourian and KBIA-FM. As an undergraduate, he worked with a team of students on a virtual reality view of the New York City Subway.
Nakagawa said he looks forward to taking his passion for immersive journalism a step further, while working on best practices and ethical guidelines for journalists using VR techniques.
Updated: August 15, 2019
Related Stories