Media Convergence Student Wins a $10,000 Scripps Howard Top Ten Scholarship
By Jessica Murray
Columbia, Mo. (June 29, 2006) — Matt Sokoloff is one of only 10 college students in the U.S. to receive a $10,000 Top Ten Scholarship awarded by the Scripps Howard Foundation in 2006. A senior from Orlando, Fla., Sokoloff is studying media convergence journalism at the Missouri School of Journalism. This summer he is an intern at ABC News in New York.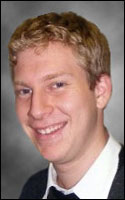 Missouri Journalism students have won this prestigious national award for five years in a row and six out of the eight years it has been given.
"Matt seeks out challenges rather than waiting for them to come to him. But he also works well with team members to tell compelling stories across media platforms. I expect Matt to be a convergence journalism leader before he turns 30," said Mike McKean, chair of the media convergence journalism emphasis area.
The Top Ten Scholarship is an award given to the 10 most outstanding journalism students in the nation. Students considered for the award have demonstrated an interest in journalism as well as high academic achievement, have strong recommendations and have submitted a personal essay. It is hoped that the recipients will parley their scholarships into careers that make a permanent impression on journalism and democracy. The Scripps Howard Foundation strives to advance the cause of a free press through support of excellence in journalism, quality journalism education and professional development.
"Each year we seek out the most talented and promising college journalism students in the nation to help them achieve their goal of becoming career journalists," said Judith G. Clabes, president and CEO of the Foundation.
Sokoloff was one of the first 16 students to be selected for the School's new media convergence journalism emphasis area, which opened in fall 2005. Students learn how to produce stories for a variety of media platforms. Sokoloff's coursework has allowed him to produce print, on-air and online stories for the School's principal news organizations: KBIA, an NPR-member station, KOMU, the only university-owned commercial television station in the United States that uses its newsroom as a working lab for students, and the Columbia Missourian, the city's daily community newspaper that serves as the working newspaper lab for students in news-editorial, design, information graphics and photojournalism.
Given that almost all of the other scholarship contestants were focusing their academic studies on one media platform, Sokoloff said his multi-disciplinary approach to journalism made the competition much more difficult – and satisfying.
"I have to be able to do everything well, to produce high quality stories regardless of where they will be published or aired," he said.
In 2005 Sokoloff was selected for the National Lesbian and Gay Journalists Association Student Video Project. He worked with mentors to produce a story on the history of gays in Chicago.
---
Jessica Murray, a strategic communication senior at the Missouri School of Journalism, plans to pursue a career in account management. She designs advertisement layouts and manages several local advertising accounts for The Maneater, MU's independent student newspaper. Murray will graduate in December 2006.
Updated: April 10, 2020
Related Stories
Expand All
Collapse All
---