Scripps Scholarship Recipient Tim Nwachukwu to Intern at Newsday
The Photojournalism Major Will Receive a $3,000 Stipend and $500 Scholarship
By Annie Rees
Columbia, Mo. (April 13, 2015) — Tim Nwachukwu, a photojournalism major at the Missouri School of Journalism, is the winner of a 2015 Scripps Howard Foundation scholarship. He will serve as a summer multimedia intern for Newsday, a newspaper with one of the biggest circulations in the country.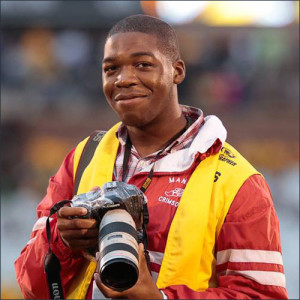 Nwachukwu, a junior, will receive a $3,000 stipend and $500 follow-up scholarship. The Scripps scholarship enables students to take unpaid or low-paying professional internships at news organizations they might not otherwise have been able to participate in.
The Scripps Howard Foundation awards the annual scholarship in consultation with the leadership of the E.W. Scripps Company and its operating units.
Nwachukwu is currently a staff photographer at the Columbia Missourian and head photographer at PowerMizzou.com.
Nwachukwu's professors at the School praise not only his photojournalism and multimedia skills, but also his exceptional ability to connect with his journalistic subjects.
"Tim is a really gifted photojournalist," said David Rees, chair of photojournalism. "He thrives on hard work and is able to make pictures that represent people honestly; events, realistically. He engages us with his excellent technical skills and straightforward approach, almost letting the subjects speak to us directly."
Associate Professor Jackie Bell cited Nwachukwu's genuine interest in his subjects and their stories.
"He cares about people, which shows in his work and his rapid growth as a photojournalist," Bell said. "He connects with people, as a photojournalist and in daily life."
Nwachukwu credits his photojournalism and convergence professors for helping him develop his skills.
"They find ways to push me to get a hair better every day, and for that, I'm forever indebted to them," he said.
Updated: August 5, 2020
Related Stories
Expand All
Collapse All
---