Sam Gause and Whitney Hayward Win Dean's Award for Photojournalism News/Features in Mastering the Method Contest
Each Receives a $100 Gift Card
Columbia, Mo. (Nov. 12, 2013) — Portfolios by photojournalism students Sam Gause and Whitney Hayward are the winners of the Dean's Award for photojournalism news/features in the Mastering the Method contest.
Gause and Hayward's portfolios were selected from among 15 entries submitted by Missouri School of Journalism students, said Dean Mills, dean, in his announcement remarks.
The Mastering the Method contest launched this semester. It recognizes outstanding work by undergraduates in the areas of broadcast, multimedia, photography and writing. The top two winners in each of the 14 categories receive a $100 gift card.
Information about Gause and Hayward and the judges' comments are as follows.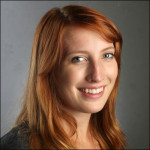 Sam Gause: Some of Gause's photographs were taken at the Jackson Citizen Patriot in Michigan where he is currently on internship. Gause is a native of Phoenix. His supervising professor was David Rees.
Judges' Comments: Sam's strong graphic compositions, complemented by content-laden situations, made his portfolio stand out from others. His pictures have a strong sense of spontaneity and moment, whether of a Missouri river pilot guiding his vessel, or a boy trying on a policeman's cap, and it's clear that he easily establishes rapport with his subjects.
Whitney Hayward: Hayward's portfolio of work is from her coursework at the Missouri School of Journalism, work for the Columbia Missourian, and also from her summer internship at the Pueblo (Colo.) Chieftain. Supervising professors were Brian Kratzer, David Rees and Rita Reed.
Judges' Comments: Judges admired the storytelling intimacy of Whitney's work, where we really felt like we were entering people's lives in a meaningful way. Her internship provided her with experience covering news (forest fires) and sports (rodeo) – and through her work here in central Missouri she has photographed a college English teacher who also dances at Club Vogue, and a troubled community's response to one of their own being killed by gunfire.
Updated: July 21, 2020
Related Stories
Expand All
Collapse All
---