Lizz Cardwell and Amy Stroth Win Dean's Award for Photojournalism II Competition in Mastering the Method Contest
The Stories Highlight Cosmetic Treatments and Loving a Child with Down Syndrome
Columbia, Mo. (April 9, 2014) — Lizz Cardwell and Amy Stroth are the winners of the Dean's Award for the photojournalism picture story/series category in the Mastering the Method contest at the Missouri School of Journalism.
The contest recognizes outstanding work by undergraduates in the areas of broadcast, multimedia, photography and writing. The top two winners in each of the 14 categories receive a $100 gift card. The picture story/series category could include up to 15 images on any subject.
Cardwell and Stroth's stories were chosen from among 13 entries.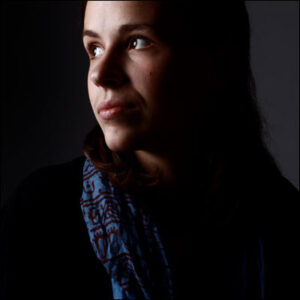 Lizz Cardwell
Cardwell's photos, "The Cosmetic Aesthetic – A Problematic Commodity," were created while studying at the Danish School of Media in February 2014. British photographers Richard Billingham and Martin Parr served as points of inspiration for Cardwell's approach to the project.
"This photo essay takes a somewhat real and dark look at the products and messages that build some of the ideals about femininity and consumerism," the judges noted.
Cardwell provides insight to the idea behind her photos:
I have long been fascinated with the incredible reach and breadth of the cosmetics industry. Since we had the freedom to explore whatever topic we wanted, in whatever style we wanted, I decided to explore something that I had found interesting and puzzling for a long time. I wanted to make harsh, awkward and somewhat ugly photographs of the process that people go through in an effort to make themselves more beautiful.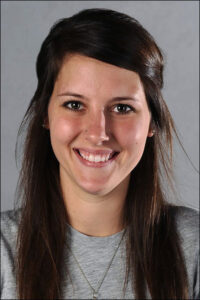 Amy Stroth
Stroth's project, "Olive," was created as part of her capstone class during the spring of 2013. The faculty editor was Professor Rita Reed. Stroth, BJ '13, is now a freelance sports photographer in Kansas City, Mo.
"Amy's story about Olive, a four-year-old girl with Down syndrome, is a timely story about how lovely life and family can be with a child," the judges said. "This child just happens to have genetic characteristics, that when found out in utero, some parents are choosing to abort."
Stroth shares the story behind her work:
I had photographed photo stories previously but never as in-depth as this particular project. I was introduced to the Werths through a friend and instantly fell in love with their family.
After hearing Katie and Andy's story about Olive's conception, her Down syndrome diagnosis and their not-fully-conventional approach to parenting, I knew I had to make 4-year-old Olive the centerpiece of my story. Her curiosity and zest for life made photographing her incredibly easy. For the first time, I felt as though the subjects and I were telling the story together, instead of me working on my own and trying to find my own angle or point of view. It wasn't about me. It was about them and their beautiful story. Because I became so deeply vested in the Werth family, it challenged me to reflect their lives as honestly as possible. Without their openness and trust, I couldn't have produced a story that was so meaningful to me, and hopefully to those who view it.
Updated: July 24, 2020
Related Stories
Expand All
Collapse All
---