Bridgit Bowden and Lukas Udstuen Win the Dean's Award for Radio News and Features
Missouri Journalism Students Submit 22 Entries to This Category of the Mastering the Method Contest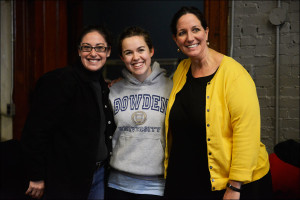 Columbia, Mo. (Dec. 10, 2013) — Stories about veteran programs, demographic shifts in Missouri, education and country line dancing are the winners of the Dean's Award for radio news and features in the Mastering the Method contest.
The work of convergence journalism senior Bridgit Bowden and recent convergence journalism graduate Lukas Udstuen, BJ '13, was selected from among 22 entries submitted by Missouri School of Journalism students. The stories aired on KBIA-FM, a top-ranked NPR-member station. Assistant Professor Janet Saidi serves as news director.
The Mastering the Method contest launched this semester. It recognizes outstanding work by undergraduates in the areas of broadcast, multimedia, photography and writing. The top two winners in each of the 14 categories receive a $100 gift card.
Information about Bowden and Udstuen's entries and the judges' comments are as follows.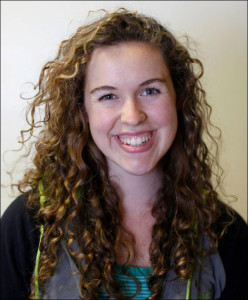 Bridgit Bowden
Bridgit Bowden's Mastering the Method entries included two features: one on education and another on country line dancing.
The first feature, "Russell Elementary students go to university" profiled a special roster of classes at a local elementary school aimed at offering advanced, specialized "courses" for students. The story aired in the program "Exam," a KBIA segment on education.
The second feature, "Not your grandma's line dancing, in Mexico, Mo.," profiled two state champion line dancers who stay healthy and connect people through dance moves. That piece aired in the KBIA segment "Off the Clock," exploring arts and culture in mid-Missouri.
Judges' Comments: Bridgit's pieces demonstrated terrific producing that brought together several elements – writing, interviews, and scenes – to create a compelling story. Both of Bowden's stories take the listener somewhere unique – to an after-school program where kids are building robots after school; and to "KC Country," a place where line dancing is an important aspect of life. In both cases, the stories provide a rare glimpse into the culture surrounding us.
Bowden's Comments About Her Stories: I really enjoyed both of these stories, but the line dancing story has a special place in my heart. Getting to know these ladies and watching them dance was so much fun. I wanted to make the listener feel like they were dancing at KC Country with them.
Bowden, a dual major studying journalism and Spanish, will graduate in May 2014. Her interest in radio started in her freshman year when she started working as a volunteer announcer at KBIA. The following summer, Bowden worked as the news intern at WPLN-FM, the public radio station in Nashville.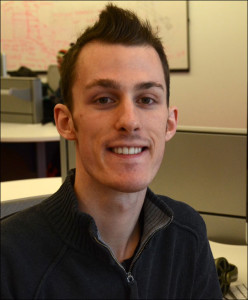 Lukas Udstuen
Lukas Udstuen's winning entry included two in-depth radio features. The first feature, titled "What does your local VFW have in common with your church?" explored the role of the Veterans of Foreign Wars post in Columbia in connecting veterans to their past and to the each other. It was produced as part of the "Project 573" series of stories, which was coordinated by Reuben Stern and Jacqui Banaszynski.
The second feature, "Rural Missouri town now a 'ghost of a past settlement,'" featured the small town of Goss, Mo. Population: 0. The story looks into how a town on the map can have zero residents and what that says about the larger cultural demographic shifts and changes of landscape in rural Missouri.
Judges' Comments: The judges said both of Udstuen's features were examples of what public radio does best – using great writing, natural sounds and scenes to explore a unique, under-reported aspect of our culture. The Goss, Mo., story even had a public-radio humor and quirkiness to it that is rare, but great to see in a student reporter.
Udstuen's Comments About the VFW Story: I completed the Veterans of Foreign Wars story as a part of my capstone with the Missouri School of Journalism. Our team explored the rise in the number of religiously unaffiliated Americans, according to a recent Pew Research Report. I took on the task of looking at what ways Americans are replacing church. When I first went to the VFW post, I went just to discuss our project, to see if any of the veterans there had any such group in mind. Someone mentioned to me there was a group of people that meets outdoors in a park each Sunday to enjoy a meal together and listen to a band.
While this story might have been interesting, the more I listened to the veterans, the more I realized the VFW itself resembled a church in many ways. I chatted with many people at the VFW, including VFW Commander Don Briggs, and each time I explained my observation, the veteran agreed that the similarities between the VFW and a church were valid. They recognized that in many ways, those who were involved with the meetings of the VFW carried a somewhat ritualistic sense, and that the sense of community and support veterans received at the VFW resembled the kind one could expect from religious institutions.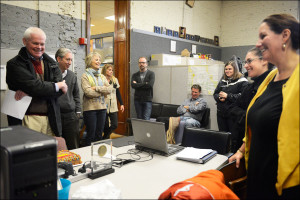 Udstuen's Comments About the Goss, Mo., Story: My story about Goss, Mo. was born from one simple question: "What is the smallest town in Missouri?" Credible online sources informed me Goss stands as one of a few Missouri towns that hold records but not residents. Suspecting there must be more to the story than what scraps of history I could scavenge online, I drove the 52 miles northeast of Columbia to Goss. I discovered the butter-knife shaped portion of land the U.S. Census Bureau reported was Goss, belonged actually to Bob Gilliam. The area housed the junkyard of the now-defunct Joe Gilliam Mining Company.
So many stages of reporting this story illustrated to me the importance of on-the-ground information gathering. I scored an interview with Bob Gilliam, the "mayor" of Goss, Mo., only because I noticed a pickup truck was parked inside the city limits of Goss. I switched on my recorder and wandered over. He allowed me to sit in his pickup truck to chat with him. He told the story of how Goss used to be a fairly active small town located right along the railroad track, but faded away following World War II. While I was not able to find any of this information online, it exists clearly in Gilliam's (and other's) memory. It is their story. Goss showed me very concretely the problems of relying on the Internet as the alpha provider of information. Given how much of our modern lives are tied to a computer, I think it can sometimes be easy to miss things that appear clearly offline: that a town with zero people is hardly a town at all.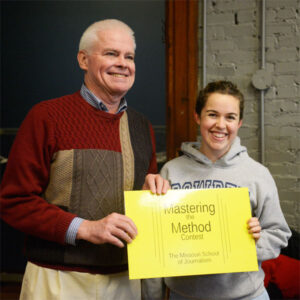 Udstuen is a Minnesota native and his passion for journalism drew him southward to the Missouri School of Journalism. He joined KBIA news in 2012 and has worked as a news anchor and reporter. Udstuen was among 14 journalists selected nationwide to cover President Obama's second inauguration with InaugBlog by PBS NewsHour. His reporting explored the experience of one young dreamer amid Obama's call for comprehensive immigration reform.
Udstuen also has interned for Minnesota Public Radio News as a producer with local broadcasts of "All Things Considered." He has also interned with various organizations in Buenos Aires, Argentina.
Updated: July 21, 2020
Related Stories
Expand All
Collapse All
---