Student Reporters at KBIA Radio Win Four Regional Edward R. Murrow Awards
Columbia, Mo. (April 19, 2007) — In one of the nation's most prestigious broadcast awards programs, four Missouri School Journalism students working at KBIA radio competed with professionals and brought home top honors.
Seniors Ryan Famuliner and August Skamenca, along with recent graduates Hayley Salvo, BJ '06, and Bente Birkeland, MA '06, each won a regional Edward R. Murrow Award from the Radio-Television News Directors Association (RTNDA). KBIA, one of the most successful National Public Radio stations in the nation, uses its newsroom as a working lab for radio-television and convergence journalism students. The award-winning pieces will now move on to the national competition.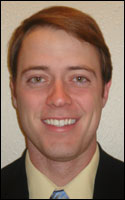 "Over the past few years, KBIA has worked to bring more students into the newsroom, and to now see so many of them succeed is incredibly gratifying and encouraging," said Sarah Ashworth, KBIA news director and assistant professor of radio-television journalism. "These students were competing against professional radio journalists in our region, and for four of them to do some of the best work in the Midwest is amazing. These awards just confirm that the students are already equipped with the skills they'll need in their first jobs as reporters."
Famuliner, a radio-television journalism major from Blue Springs, Mo., won in the feature reporting category for his story "Living Off the Grid." Having visited an open house at the Mid-America Renewable Energy Center in New Bloomfield, Mo., Famuliner said what started as a simple news blurb became a much more interesting feature story about the men working there.
"It basically served as a homelessness rehabilitation center, and these men were living off the energy grid – using alternative energy sources they produced themselves," Famuliner said.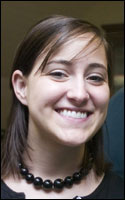 Skamenca, a radio-television major from Denver, Colo., won in the investigative reporting category for "Dead Voters," a story revealing that more than 10,000 deceased people are still registered to vote in Missouri. Skamenca has won multiple awards for his radio and television work, including several Society of Professional Journalists Mark of Excellence awards, two Public Radio News Directors Incorporated awards and a share of KBIA's 2006 national Murrow Award in small-radio news documentary.
"Just three weeks from graduation, this honor has a real symbolic value for me," Skamenca said. "When I first arrived here, I wondered, 'Will they let me do the kind of thought-provoking journalism I believe is vital?' The answer was an unequivocal 'yes.' These and past awards demonstrate the School's role not only as a place of quality instruction but as a clearinghouse for serious reporting."
Salvo, now the producer of the Walt Bodine Show for KCUR in Kansas City, Mo., won for best use of sound in her story, "Voices United: Protesting Three Years of War." While a student, she also was named a national RTNDA Fellow and completed an internship at CBS Radio News in New York City. Salvo said a part of her success is the product of Ashworth's dedicated mentorship of students.
"Throughout my first semester in the program, Sarah challenged me with work far beyond the expectations of a Broadcast I student and helped me lay the foundations for strong and vibrant feature reporting," Salvo said. "The following summer, she trusted me to show up every morning at six to anchor KBIA's morning newscasts. During that time I honed my writing skills, focused my news judgment and learned first hand the importance of deadlines."
Birkeland's series "From the Outside Looking In: Examining Missouri's Probation and Parole System," won in the news series category.
"The series explores the reason why so many people leaving prison in Missouri end up back behind bars," Birkeland said. "It looks at the role parole officers and prison programs play in giving inmates the skills needed to succeed on the outside."
Now a state government reporter for Rocky Mountain Radio, a group of 14 public and community radio stations in Colorado, Birkeland is based in Denver and covers the state's legislative session, politics and government.
In 2006, KBIA won five regional Murrow Awards and the station's first-ever national Murrow Award. RTNDA has been honoring outstanding achievements in electronic journalism with the Edward R. Murrow Awards since 1971.
Both Famuliner and Skamenca will graduate in May with the goal of finding successful jobs in television or radio news, just as Birkeland and Salvo have done. According to Salvo, many radio students have bright futures ahead of them, thanks to Ashworth's guidance at KBIA.
"I can't imagine where I'd be today without Sarah's mentorship," Salvo said. "She spends so much time individually cultivating the talents of all of her students. From poring over draft after draft to meticulously listening to every second of recorded audio, she gives all students an opportunity for individual attention and potential to shine."
Updated: April 16, 2020
Related Stories
Expand All
Collapse All
---