KOMU-TV, KBIA-FM Win 4 National Edward R. Murrow Awards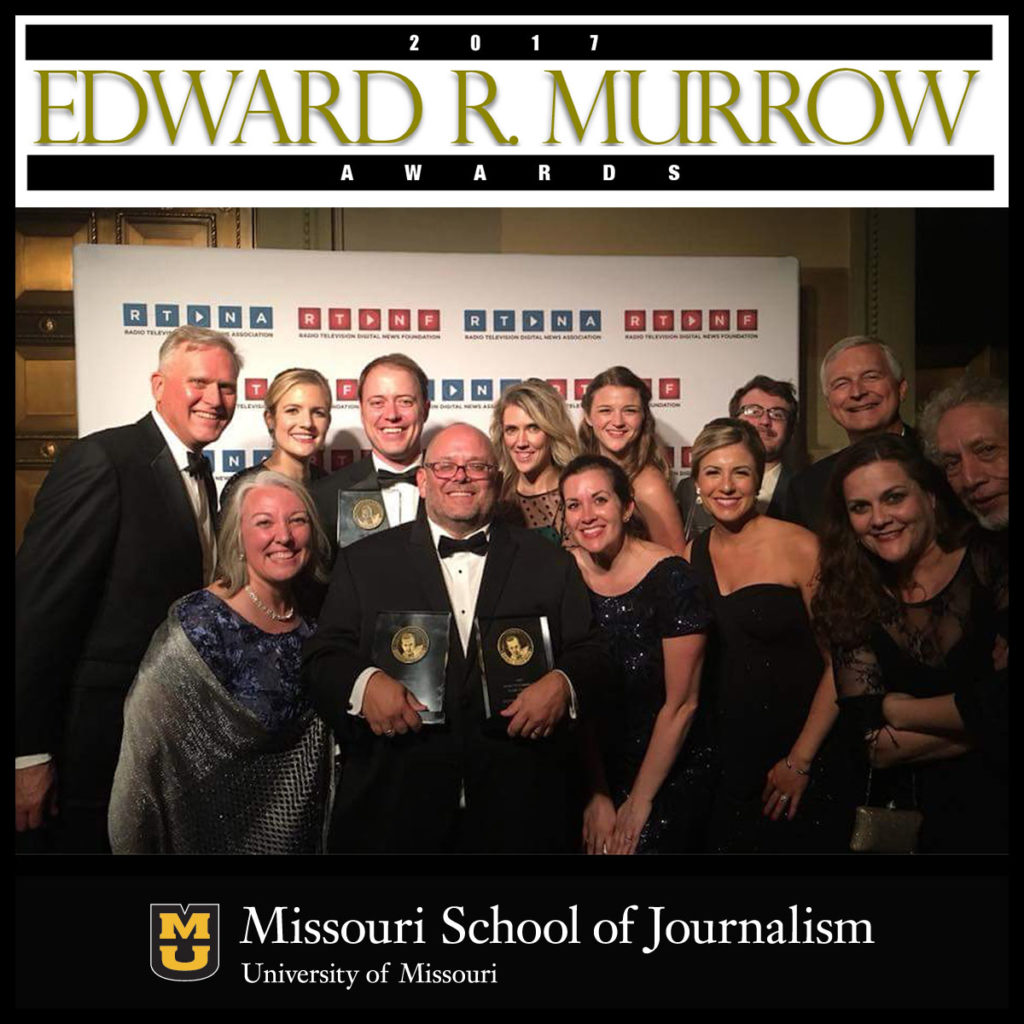 News Outlets Serve as Teaching Labs for Missouri School of Journalism Students
Columbia, Mo. (Oct. 10, 2017) — KOMU-TV and KBIA-FM both accepted national Edward R. Murrow Awards on Oct. 9 at the 2017 Radio Television Digital News Association (RTDNA) Edward R. Murrow Awards Gala in New York City. The stations beat out hundreds of the nation's top local and network programs for the honors.
"These highly-competitive awards demonstrate the effectiveness of the hands-on, real media Missouri Method," said David Kurpius, dean of the School of Journalism. Kurpius references the School's professional newsrooms that serve as multiplatform learning laboratories. Others on campus, in addition to KOMU and KBIA, include the Columbia Missourian, Global Journalist and Vox Magazine. Similar opportunities are provided in the School's New York and Washington bureaus as well as through the London, Brussels and Barcelona global programs.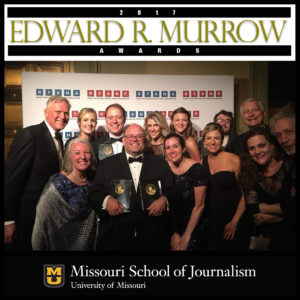 KBIA-FM won for Excellence in Innovation for their unique, in-depth digital storytelling. "An Uncertain Road: Life after Premature Birth" was a series by KBIA reporter Rebecca Smith, who is one of two reporters on the grant-funded Health and Wealth Desk. Her series explored the nuanced reality of premature birth through compelling stories of Missouri families who have been through the experience, including her own family.
Emerald O'Brien, a 2016 MU journalism school graduate, was awarded the 2017 Student Excellence in Audio Reporting Award for her piece "Putting Columbia's Payphone Mystery to Rest," a whimsical investigative piece looking into a small piece of Columbia folklore. The Murrow judges said the story "grabbed their attention from the start and kept it until the end."
KOMU-TV won for Excellence in Social Media (small market category) for its coverage of the 2016 Republican gubernatorial primary election debate. The station produced one of its signature public affairs programming efforts, Town Square. The Town Square program asked the audience what questions they wanted reporters to ask the candidates. Viewers were able to share their opinions on a variety of issues such as voter ID measures, race relations and minimum wage. The digital team also created and curated a live blog in which tweets were collected from reporters and viewers as the debate took place.
KOMU 8 also won a Murrow Award for Best Website. Contributing to this win are its interactive stories such as an in-depth look at Columbia's African-American Heritage Trail and an interactive timeline of a series of bank robberies.
Serving as a working laboratory for broadcast journalism students at the MU Journalism School, KOMU is the only university-owned commercial major-network affiliate in the United States that serves both an academic and a commercial mission.
"We are proud of our students' accomplishments," Kurpius said, "and recognize the work of our faculty and staff who lead by example, educating and producing the world's finest journalists today."
Updated: August 15, 2019
Related Stories